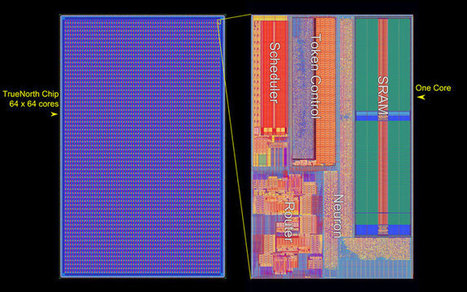 The processor, named TrueNorth, may eventually excel at calculations that stump today's supercomputers. The chip, or processor, is named TrueNorth and was developed by researchers at IBM and detailed in an article published on Thursday in the journal Science. It tries to mimic the way brains recognize patterns, relying on densely interconnected webs of transistors similar to the brain's neural networks.
The chip's electronic "neurons" are able to signal others when a type of data — light, for example — passes a certain threshold. Working in parallel, the neurons begin to organize the data into patterns suggesting the light is growing brighter, or changing color or shape. The processor may thus be able to recognize that a woman in a video is picking up a purse, or control a robot that is reaching into a pocket and pulling out a quarter. Humans are able to recognize these acts without conscious thought, yet today's computers and robots struggle to interpret them.
Inspired by the brain's structure, we have developed an efficient, scalable, and flexible non–von Neumann architecture that leverages contemporary silicon technology. To demonstrate, we built a 5.4-billion-transistor chip with 4096 neurosynaptic cores interconnected via an intrachip network that integrates 1 million programmable spiking neurons and 256 million configurable synapses. Chips can be tiled in two dimensions via an interchip communication interface, seamlessly scaling the architecture to a cortexlike sheet of arbitrary size. The architecture is well suited to many applications that use complex neural networks in real time, for example, multiobject detection and classification. With 400-pixel-by-240-pixel video input at 30 frames per second, the chip consumes 63 milliwatts.