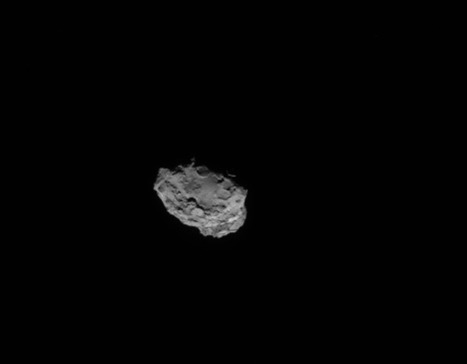 After traveling 3.97 billion miles over 10 years, five months and four days, the Rosetta spacecraft finally reached its destination today—and made history.
It took five loops around the Sun, three gravity-assist fly-bys of Earth and one of Mars, and a journey of 3.97 billion miles lasting 10 years, five months and four days. After all that, the Rosetta spacecraft finally reached it destination today — and made history.
Rosetta is the first spacecraft ever to rendezvous with a comet. It is now in quasi-orbit (more about that in a minute) around comet 67P/Churyumov-Gerasimenko. For more than a year, it will take pictures and gather data, and it will also send a lander down to the surface, all in a quest to help us understand the origin and evolution of the solar system. In so doing, it will tell us something of our own origins.
The Rosetta animation records the final leg of that long and lonesome journey. It consists of 101 images taken by the probe's navigation camera as it approached the comet, the first from Aug. 1 and the last a few days later.
Now that Rosetta, a project of the European Space Agency, or ESA, has settled in close to the comet, it will be making roughly triangular loops around it, using its thrusters to maintain the proper trajectory. Technically speaking, this isn't quite an "orbit." But once scientists have a better handle on the comet's gravity, the plan is for Rosetta to attempt a close, near-circular orbit at 30 kilometers, or 18.6 miles, from the surface — and maybe even a bit closer.
But even on its current trajectory around the comet, Rosetta is already sending back some spectacular closeup images, including the one above. It shows the comet's 'head' at the left of the frame. This bulbous part of the comet is casting a shadow onto the bright 'neck' and 'body' to the right. The image resolution is 2.2 meters per pixel, or a little more than 7 feet. That means features equivalent in size to a large boulder are visible.
The cometscape is mind boggling — pits, cliffs, crags, and smoother areas, perhaps icy?