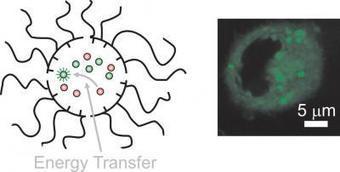 Researchers at the University of Miami and the University of Ulster have created self-assembling nanoparticles that can transport drugs and other molecules into target living cells.
The new nanocarriers are just 15 nanometers in diameter, based on building blocks called amphiphilic polymers: they have both hydrophilic (water-loving, polar) and lipophilic (fat-loving) properties). That allows the nanocarriers to hold the guest molecules within their water-insoluble interior and use their water-soluble exterior to travel through an aqueous environment. And that makes the nanocarriers ideal for transferring molecules that would otherwise be insoluble in water.
They also emit a fluorescent signal that can be observed with a microscope, allowing for tracking and photographing the nanoparticles in the body.
"The size of these nanoparticles, their dynamic character and the fact that the reactions take place under normal biological conditions (at ambient temperature and neutral environment) makes these nanoparticles an ideal vehicle for the controlled activation of therapeutics, directly inside the cells," says lead investigator Francisco Raymo, professor of chemistry in the University of Miami College of Arts and Sciences and UM laboratory for molecular photonics.
The next phase of this investigation involves demonstrating that this method can be used to achieve chemical reactions inside cells, instead of energy transfers.