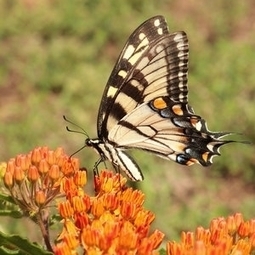 Invertebrate numbers have decreased by 45% on average over a 35 year period in which the human population doubled, reports a study on the impact of humans on declining animal numbers.
This decline matters because of the enormous benefits invertebrates such as insects, spiders, crustaceans, slugs and worms bring to our day-to-day lives, including pollination and pest control for crops, decomposition for nutrient cycling, water filtration and human health.
The study, published in Science and led by UCL, Stanford and UCSB, focused on the demise of invertebrates in particular, as large vertebrates have been extensively studied. They found similar widespread changes in both, with an on-going decline in invertebrates surprising scientists, as they had previously been viewed as nature's survivors.
The decrease in invertebrate numbers is due to two main factors – habitat loss and climate disruption on a global scale. In the UK alone, scientists noted the areas inhabited by common insects such as beetles, butterflies, bees and wasps saw a 30-60% decline over the last 40 years.
Scientists believe there is a growing understanding of how ecosystems are changing but to tackle these issues, better predictions of the impact of changes are needed together with effective policies to reverse the losses currently seen. Using this approach, conservation of species can be prioritized with the benefit of protecting processes that serve human needs, and successful campaigns scaled-up to effect a positive change globally.