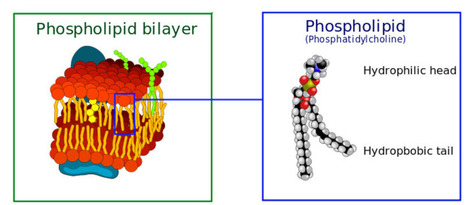 A new study led by MIT materials scientists reveals the reason why gold nanoparticles can easily slip through cell membranes to deliver drugs directly to target cells. The nanoparticles enter cells by taking advantage of a route normally used in vesicle-vesicle fusion, a crucial process that allows signal transmission between neurons.
In the July 21 issue of Nature Communications, the researchers describe in detail the mechanism by which these nanoparticles are able to fuse with a membrane. The findings suggest possible strategies for designing nanoparticles — made from gold or other materials — that could get into cells even more easily.
"We've identified a type of mechanism that might be more prevalent than is currently known," says Reid Van Lehn, an MIT graduate student in materials science and engineering and one of the paper's lead authors. "By identifying this pathway for the first time it also suggests not only how to engineer this particular class of nanoparticles, but that this pathway might be active in other systems as well."
Most nanoparticles enter cells through endocytosis, a process that traps the particles in intracellular compartments, which can damage the cell membrane and cause cell contents to leak out. But in 2008, MIT researchers found that a special class of gold nanoparticles coated with a mix of molecules could enter cells without any disruption.
Last year, they discovered that the particles were somehow fusing with cell membranes and being absorbed into the cells. In their new study, they created detailed atomistic simulations to model how this happens, and performed experiments that confirmed the model's predictions.
References: