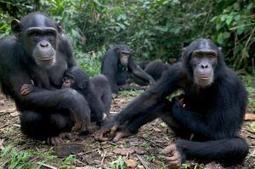 Variations in chimpanzee intelligence have been shown for the first time to be strongly dictated by genetic inheritance, echoing findings in humans.
If a chimpanzee appears unusually intelligent, it probably had bright parents. That's the message from the first study to check if chimp brain power is heritable. The discovery could help to tease apart the genes that affect chimp intelligence and to see whether those genes in humans also influence intelligence. It might also help to identify additional genetic factors that give humans the intellectual edge over their non-human-primate cousins.
The researchers estimate that, similar to humans, genetic differences account for about 54 per cent of the range seen in "general intelligence" – dubbed "g" – which is measured via a series of cognitive tests. "Our results in chimps are quite consistent with data from humans, and the human heritability in g," says William Hopkins of the Yerkes National Primate Research Center in Atlanta, Georgia, who heads the team reporting its findings in Current Biology.