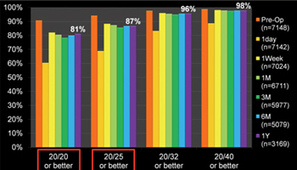 A look at three leading approaches using inlays to expand presbyopic patients' range of vision.
Periodically, the search for a "cure" for presbyopia produces a new set of treatment options. The latest approach is the corneal inlay, intended to improve near vision without compromising distance vision in emmetropic presbyopes—and possibly non-emmetropes as well.

Three variations on the concept of placing an implant inside the cornea are in different stages of the approval process. The Kamra inlay (from AcuFocus in Irvine, Calif.) uses the pinhole principle to increase depth of field; the Raindrop (from ReVision Optics in Laguna Hills, Calif.) makes the cornea multifocal by reshaping it; and the Flexivue Microlens (from Presbia in Amsterdam) creates multifocal vision using an in-cornea lens.
Closer to a Presbyopia Cure?
"All of these inlays seem to work," notes Dr. Hovanesian. "You can make theoretical arguments as to why one might be better than the others, but they all seem to achieve a high level of near vision in the range of J1, while only minimally compromising distance vision to 20/20 or 20/25."

"Overall, the data from the FDA trial of the Kamra, like the data from outside the United States regarding the Flexivue, indicates that these inlays are very safe," adds Dr. Maloney.

Of course, they have a few disadvantages. Dr. Maloney notes that all of them reduce distance vision to some degree. "That's the trade-off for improved reading vision," he says. "And all of them cause night glare to some degree; that's the trade-off for changing the way the eye focuses light. So if patients aren't happy, it's because their night vision isn't good enough, their distance vision isn't good enough, or their reading vision isn't good enough—the inlay isn't strong enough to give them the reading vision they need. Those limitations are probably common to all inlays. But the inlays can be explanted, and vision returns to being very close to what it was before surgery. In addition, we haven't seen significant adverse effects with the current generation of these inlays."

"Using an inlay requires a compromise in distance vision," agrees Dr. Hovanesian. "That's the nature of adding something to an emmetropic visual system. However, you're usually doing it in the nondominant eye in a patient who is a good adapter. For most of these patients, what they sacrifice is well worth it for what they gain.

"The Raindrop inlay, and inlays in general, are going to serve a very important purpose," he concludes. "As they become approved, we're going to find that patients really want this kind of technology. It's appealing because it serves emmetropic presbyopes—patients who are not well served by any other modality we have. Many of these patients are not willing to try monovision, and they're generally too young for lens implant surgery. They want a quick and easy solution, and they like the idea of something that's reversible if it doesn't work out."

"I think there will definitely be a place for these inlays in our clinical practices," agrees Dr. Maloney. "It looks like the Kamra inlay is the one closest to FDA approval, but as a surgeon I'd be very happy to add any one of them to my practice."
References:
1. Tomita M, Kanamori T, et al. Simultaneous corneal inlay implantation and laser in situ keratomileusis for presbyopia in patients with hyperopia, myopia, or emmetropia: Six-month results. J Cataract Refract Surg 2012;38:495-506.
2. Tomita M, Kanamori T, et al. Small-aperture corneal inlay implantation to treat presbyopia after laser in situ keratomileusis. J Cataract Refract Surg 2013;39:898-905.
3. Waring GO 4th. Correction of presbyopia with a small aperture corneal inlay. J Refract Surg 2011;27:842-5.
4. Seyeddain O, Hohensinn M, et al. Small-aperture corneal inlay for the correction of presbyopia: 3-year follow-up. J Cataract Refract Surg 2012;38:35-45.
5. Chayet A, Garza EB. Combined hydrogel inlay and laser in situ keratomileusis to compensate for presbyopia in hyperopic patients: One-year safety and efficacy. J Cataract Refract Surg 2013;39:1713-21.
6. Garza EB, Gomez S, Chayet A, Dishler J. One-year safety and efficacy results of a hydrogel inlay to improve near vision in patients with emmetropic presbyopia. J Refract Surg 2013;29:166-72.
7. Limnopoulou AN, Bouzoukis DI, et al. Visual outcomes and safety of a refractive corneal inlay for presbyopia using femtosecond laser. J Refract Surg 2013;29:12-8.
8. Jackson GR, Owsley C, McGwin G Jr. Aging and dark adaptation. Vision Res 1999;39:3975-82.
9. King BR, Fogel SM, et al. Neural correlates of the age-related changes in motor sequence learning and motor adaptation in older adults. Front Hum Neurosci 2013;7:142.
10. Yılmaz OF, Alagöz N, et al. Intracorneal inlay to correct presbyopia:Long-term results. J Cataract Refract Surg 2011;37:1275-1281.
11.Alió JL, Abbouda A, et al. Removability of a small aperture intracorneal inlay for presbyopia correction. J Refract Surg 2013;29:8:550-6.