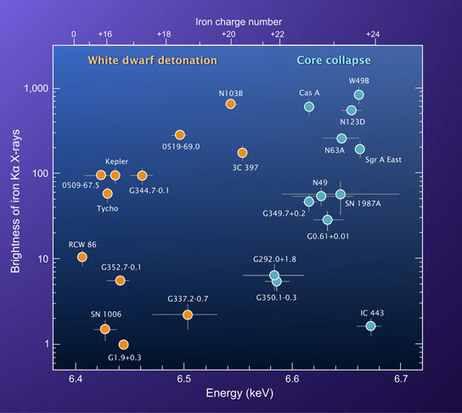 By observing specific X-ray emissions from iron atoms in the core of supernova remnants, astronomers developed a new technique that provides a clear and rapid means of classifying supernova remnants.
An international team of astronomers using data from the Japan-led Suzaku X-ray observatory has developed a powerful technique for analyzing supernova remnants, the expanding clouds of debris left behind when stars explode. The method provides scientists with a way to quickly identify the type of explosion and offers insights into the environment surrounding the star before its destruction.
"Supernovae imprint their remnants with X-ray evidence that reveals the nature of the explosion and its surroundings," said lead researcher Hiroya Yamaguchi, an astrophysicist at NASA's Goddard Space Flight Center in Greenbelt, Maryland. "Thanks to Suzaku, we are now learning how to interpret these signals."
The technique involves observing specific X-ray emissions from iron atoms in the core of supernova remnants. Even after thousands of years, these atoms remain extremely hot, stripped of most of the 26 electrons that accompany iron atoms under normal conditions on Earth. The metal is formed in the centers of shattered stars toward the end of their energy-producing lives and in their explosive demise, which makes it a key witness to stellar death.
"Because Suzaku has a better sensitivity to iron emission lines than any other X-ray mission, it's the ideal tool for investigating supernova remnants at these energies," said Robert Petre, chief of Goddard's X-ray Astrophysics Laboratory and a member of the study team. Suzaku was launched into Earth orbit in 2005, the fifth in a series of Japanese X-ray astronomy satellites. It was developed and is operated cooperatively by the United States and Japan.
Astronomers estimate that a supernova occurs once or twice a century in our home galaxy, the Milky Way. Each time, a blast wave and a shell of hot stellar debris expands rapidly away from the detonation, creating a supernova remnant that can be detected for tens of thousands of years. The expanding cloud slows over time as it mixes with interstellar gas and eventually becomes indistinguishable from it.