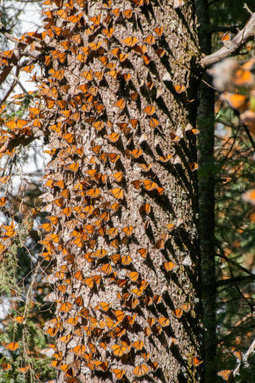 Scientists have identified a new component of the complex navigational system that allows monarch butterflies to transverse the 2,000 miles to their overwintering habitat each year. Monarchs use a light-dependent, inclination magnetic compass to help them orient southward during migration.
Previous attempts by scientists to isolate use of an internal inclination compass in monarchs have yielded conflicting or unconvincing results. These studies, however, may not have accounted for the possibility that the magnetic compass was influenced by ultraviolet light that can penetrate cloud cover.
Given the ability of monarch cryptochromes (CRY), a class of proteins that are sensitive to ultraviolet A/blue light, to restore a light-dependent magnetic response in CRY-deficient Drosophila, Reppert and colleagues suspected that monarchs also possessed a light-dependent magnetic compass.
Using flight simulators equipped with artificial magnetic fields, Patrick Guerra, PhD, a postdoctoral fellow in the Reppert lab, examined monarch flight behavior under diffuse white light conditions. He found that tethered monarchs in the simulators oriented themselves in a southerly direction. Further tests in the simulator revealed that the butterflies used the inclination angle of Earth's magnetic field to guide their movement. Reversing the direction of the inclination caused the monarchs to orient in the opposite direction, to the north instead of the south.
To test the light-dependence of the monarch's magnetic compass, Dr. Guerra applied a series of wavelength blocking filters to the lights in the simulator. Monarchs exposed to light only in the wavelength range above 420nm exhibited a lack of direction by flying in circles. Monarchs exposed to light in the wavelength range above 380nm showed clear signs of directional flight. These tests showed that the monarch's magnetic compass, and thus directional flight, was dependent on exposure to light wavelengths (380nm to 420nm) found in the ultraviolet A/blue light spectral range.
Together, these results provide the first demonstration that the monarch butterfly uses a light-dependent, inclination compass during its long journey. It is also the first evidence of such a navigational tool in a long-distance migratory insect.
Patrick A Guerra, Robert J Gegear, Steven M Reppert. A magnetic compass aids monarch butterfly migration. Nature Communications, 2014; 5 DOI:10.1038/ncomms5164