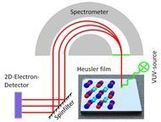 It is the breakthrough that physicists and chemists around the world have long anticipated and it will play a pivotal role in information technology in coming years. Researchers at Johannes Gutenberg University Mainz (JGU) have managed, for the first time, to directly observe the 100 percent spin polarization of a Heusler compound. Heusler alloys are composed of several metallic elements arranged in a lattice structure. They are among those materials that potentially can be used for ever smaller data storage components with ever greater storage capacity. However, doubts have been recently expressed as to whether Heusler materials are actually suitable for this purpose. The physicists at Mainz University have now demonstrated that the Heusler compound Co2MnSi has the necessary electronic properties. The project was conducted in collaboration with theoretical physicists and chemists at the Ludwig-Maximilians-Universität (LMU) München and the Max Planck Institute for Chemical Physics of Solids (MPI-CPfS) in Dresden. The results have recently been published in the online scientific journal Nature Communications. The findings provide the cornerstone for the future development of high-performance spintronic devices using Heusler materials. The potential applications include hard disk reader heads and non-volatile storage elements.
Professor Claudia Felser, who established the field of research into half-metallic Heusler materials 15 years ago, sees the results of the study as a long-awaited breakthrough. "Direct experimental evidence of 100 percent spin polarization has finally been found", said Felser, Director of the Max Planck Institute for Chemical Physics of Solids in Dresden. "This represents a major step forward when it comes to the development of new spintronic devices."
The successful experiments were based on the preparation of samples with extreme precision. For this the crystalline structure of the Heusler compound had to be perfectly ordered, in particular at the material's surface, which was realized in Mainz by means of thin-film preparation in ultra-high vacuum. The spin polarization was then measured using photo electron spectroscopy and could be explained in collaboration with the theoreticians at LMU and the MPI-CPfS as the result of a special combination of bulk and surface properties of the compound.
"It is not merely a breakthrough in the search for new spintronic materials but also in the interplay between theory and experiment," remarked Jourdan. "We were able to show that perfectly prepared materials actually have the properties that have been theoretically predicted." Heusler materials are being researched globally, particularly in Japan, Germany, and the USA. At JGU they are the subject of a core research unit that is part of the Graduate School of Excellence "Materials Science in Mainz" (MAINZ) and the Center for Innovative and Emerging Materials (CINEMA).