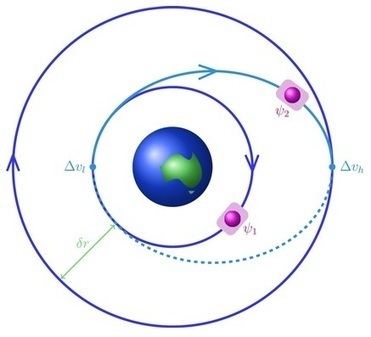 Physicists are continually looking for ways to unify the theory of relativity, which describes large-scale phenomena, with quantum theory, which describes small-scale phenomena. In a new proposed experiment in this area, two toaster-sized "nanosatellites" carrying entangled condensates orbit around the Earth, until one of them moves to a different orbit with a different gravitational field strength. As a result of the change in gravity, the entanglement between the condensates is predicted to degrade by up to 20%. Experimentally testing the proposal may be possible in the near future.
"Our work shows that it is possible to test gravitational effects, which are thought to affect classical systems at large and very large scales, with genuinely (small) entangled quantum systems," Bruschi told Phys.org. "Our results aid the understanding of the effects of relativity on entanglement, an important resource for quantum information processing. Since we lack a theory that merges quantum theory and relativity, our work can help direct future theoretical and experimental efforts that investigate quantum effects at large scales."
Besides being of fundamental interest, understanding how gravity and other relativistic features affect quantum entanglement will help physicists develop quantum technologies for space-based applications. In a sense, space-based quantum technologies will take classical space-based technologies such as GPS into the quantum regime. It's well-known that GPS satellites require relativistic corrections to accurately determine time and position, and the same will hold true for quantum technologies.
While GPS is widespread, however, quantum technologies have not yet been developed for the space environment, although several ideas have been proposed. While most of these proposals fall under the framework of the theory of quantum mechanics, the new proposal differs in that is developed within the framework of quantum field theory. This theory merges quantum theory and relativity in the sense that matter and radiation are quantized, while space time is treated as a classical background. The physicists here argue that quantum field theory provides a better model for understanding the effects of gravity on quantum properties.