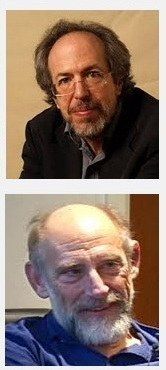 LEE SMOLIN, a theoretical physicist, is concerned with quantum gravity, "the name we give to the theory that unifies all the physics now under construction." More specifically, he is a co-inventor of an approach called loop quantum gravity. In 2001, he became a founding member and research physicist of the Perimeter Institute for Theoretical Physics, in Waterloo, Canada. He is the author of The Life of The Cosmosand Three Roads to Quantum Gravity. (See Edge Bio Page)

LEONARD SUSSKIND, the discoverer of string theory, is the Felix Bloch Professor in theoretical physics at Stanford University. His contributions to physics include the discovery of string theory, the string theory of black hole entropy, the principle of "black hole complementarity", the holographic principle, the matrix description of M-theory, the introduction of holographic entropy bounds in cosmology, the idea of an anthropic string theory "landscape". (See Edge Bio Page).
Edge Links:
"Loop Quantum Gravity: A Talk With Lee Smolin"
"The Landscape: A Talk With Leonard Susskind"
References
[1] Lee Smolin, Scientific alternatives to the anthropic principle, hep-th/0407213
[2] S. R. Coleman and F. De Luccia, Phys. Rev. D 21, 3305 [1980].
[3] S. K. Blau, E. I. Guendelman and A. H. Guth, "The Dynamics Of False Vacuum Bubbles," Phys. Rev. D 35, 1747 [1987].
[4] Raphael Bousso, Joseph Polchinski, Quantization of Four-form Fluxes and Dynami- cal Neutralization of the Cosmological Constant, hep-th/0004134, JHEP 0006 [2000] 006
[5] Shamit Kachru, Renata Kallosh, Andrei Linde, Sandip P. Trivedi, de Sitter Vacua in String Theory, hep-th/0301240
[6] Leonard Susskind, The Anthropic Landscape of String Theory, hep-th/0302219
[7] Michael R. Douglas, The statistics of string/M vacua, hep-th/0303194, JHEP 0305 [2003] 046 Sujay Ashok, Michael R. Douglas, Counting Flux Vacua, hep-th/0307049 Michael R. Douglas, Bernard Shiffman, Steve Zelditch, Critical points and super- symmetric vacua math.CV/0402326
[8] G. T. Horowitz and J. Polchinski, Phys. Rev. D 66, 103512 [2002] [arXiv:hep-th/0206228].
[9] L. Fidkowski, V. Hubeny, M. Kleban and S. Shenker, "The black hole singularity in AdS/CFT," JHEP 0402, 014 [2004] [arXiv:hep-th/0306170].
[10] G. 't Hooft, "The unification of black holes with ordinary matter," Prepared for Les Houches Summer School on Gravitation and Quantizations, Session 57, Les Houches, France, 5 Jul - 1 Aug 1992
[11] L. Susskind, "Some speculations about black hole entropy in string theory," arXiv:hep-th/9309145.
[12] G. T. Horowitz and J. Polchinski, "A correspondence principle for black holes and strings," Phys. Rev. D 55, 6189 [1997] [arXiv:hep-th/9612146].
[13] New York Times 7/22/04
[14] G. T. Horowitz and J. Maldacena, The black hole final state," JHEP 0402, 008 [2004] [arXiv:hep-th/0310281].