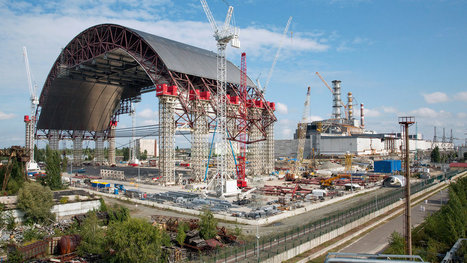 A 32,000-ton arch that will end up costing $1.5 billion is being built in Chernobyl, Ukraine, to all but eliminate the risk of further contamination at the site of the 1986 nuclear reactor explosion.
If all goes as planned, by 2017 the gigantic arch will be delicately pushed on Teflon pads to cover the ramshackle shelter that was built to entomb the radioactive remains of the reactor that exploded and burned here in April 1986. When its ends are closed, it will be able to contain any radioactive dust should the aging shelter collapse.
By all but eliminating the risk of additional atmospheric contamination, the arch will remove the lingering threat of even a limited reprise of those nightmarish days 28 years ago, when radioactive fallout poisoned the flatlands for miles around and turned villages into ghost towns, filled with the echoes of abandoned lives.
The arch will also allow the final stage of the Chernobyl cleanup to begin — an arduous task to remove the heavily contaminated reactor debris for permanent safe storage. That this job will fall from international hands to those of Ukraine presents new worries, especially as Russia threatens the nation's borders.
For now, though, the rising arch is a sign of progress.
"It's an amazing structure," said Nicolas Caille, project director for Novarka, the consortium of French construction companies that is building it. "You can't compare it to anything else."
With nations debating the future of atomic power as one way to reduce greenhouse-gas emissions and fight climate change, the arch is also a stark reminder that nuclear energy, for all of its benefits, carries enormous risks. When things go wrong, huge challenges follow.
Containment and cleanup push engineering capabilities to their limits, as Japan is also finding out since the meltdowns at the Fukushima power plant three years ago.
The costs are enormous — the Chernobyl arch alone will end up costing about $1.5 billion, financed largely by the United States and about 30 other nations.