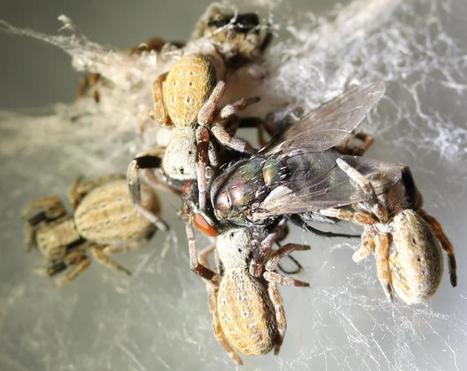 Scientists recently published the first spider genome, helping the quest to uncover secrets which could lead to smarter insecticides and man-made super-strong spider silk.
Bio-researchers led by Trine Bilde at Denmark's Aarhus University unravelled the DNA sequence of the tarantula and the African social velvet spider, each representing the two main groups of spiders. The tarantula—which is infamous despite having a bite that is only as painful as a bee sting—is a so-called mygalomorph, meaning a ground-dwelling spider that lurks in wait for its prey.
The social velvet spider is an araneomorph, part of a group of spiders that have diversified to exploit a wide range of habitats above ground, where they live in communities and weave sophisticated webs to snare flying insects.
Spiders are a source of fascination for biologists, as they combine survival skills with great efficiency. At a minimum cost in energy, they can catch prey as much as seven times their own body weight.
Chemists, though, see spiders somewhat differently. They hope to replicate spider silk, a complex protein many times stronger than steel or kevlar, and to use neurotoxins in spider venom, which kill specific insects, as the basis for greener, more selective pesticides.