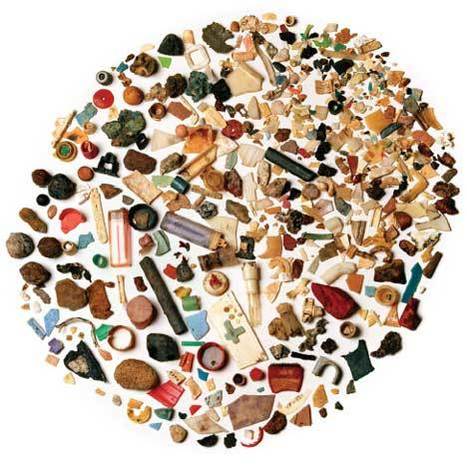 Anthropogenic litter is present in all marine habitats, from beaches to the most remote points in the oceans. On the seafloor, marine litter, particularly plastic, can accumulate in high densities with deleterious consequences for its inhabitants. Yet, because of the high cost involved with sampling the seafloor, no large-scale assessment of distribution patterns was available to date. A recent study presents data on litter distribution and density collected during 588 video and trawl surveys across 32 sites in European waters. The researchers found litter to be present in the deepest areas and at locations as remote from land as the Charlie-Gibbs Fracture Zone across the Mid-Atlantic Ridge. The highest litter density occurs in submarine canyons, whilst the lowest density can be found on continental shelves and on ocean ridges. Plastic was the most prevalent litter item found on the seafloor. Litter from fishing activities (derelict fishing lines and nets) was particularly common on seamounts, banks, mounds and ocean ridges. These results highlight the extent of the problem and the need for action to prevent increasing accumulation of litter in marine environments.
With an estimated 6.4 million tonnes of litter entering the oceans each year [1], the adverse impacts of litter on the marine environment are not negligible. Besides the unquestionable aesthetic issue, litter can be mistaken for food items and be ingested by a wide variety of marine organisms [3]–[8]. Entanglement in derelict fishing gear is also a serious threat, particularly for mammals [9]–[11], turtles [12] and birds [13] but also for benthic biota such as corals [14], [15]. High mortality of fish through "ghost fishing" is another consequence of derelict fishing gear in the marine environment [16]. Moreover, floating litter facilitates the transfer of non-native marine species (e.g. bryozoans, barnacles) to new habitats [17], [18]. Barnes et al. [19] estimated that the dispersal of alien species through marine litter more than doubles the rate of natural dispersal processes, especially during an era of global change.
Although the type of litter found in the world's oceans is highly diverse, plastics are by far the most abundant material recorded [20]–[22]. Because of their persistence and hydrophobic nature, their impact on marine ecosystems is of great concern. Plastics are a source of toxic chemicals such as polychlorinated biphenyls (PCBs) and dioxins that can be lethal to marine fauna [23]. Furthermore, the degradation of plastics generates microplastics which, when ingested by organisms, can deliver contaminants across trophic levels [24]–[27].
Litter type, composition and density vary greatly among locations and litter has been found in all marine habitats, from surface water convergence in the pelagic realm (fronts) down to the deep sea where litter degradation is a much slower process [21]. The spatial distribution and accumulation of litter in the ocean is influenced by hydrography, geomorphological factors [21],[28], prevailing winds and anthropogenic activities [29]. Hotspots of litter accumulation include shores close to populated areas, particularly beaches [30], but also submarine canyons, where litter originating from land accumulates in large quantities [28], [31].