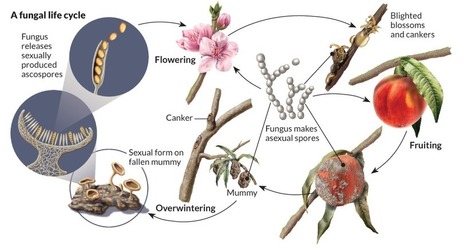 A rebellion has broken out against the traditional way of naming species in the peculiar, shape-shifting world of fungi.
Many fungi are shape-shifters seemingly designed to defy human efforts at categorization. The same species, sometimes the same individual, can reproduce two ways: sexually, by mixing genes with a partner of the same species, or asexually, by cloning to produce genetically identical offspring.
The problem is that reproductive modes can take entirely different anatomical forms. A species that looks like a miniature corn dog when it is reproducing sexually might look like fuzzy white twigs when it is in cloning mode. A gray smudge on a sunflower seed head might just be the asexually reproducing counterpart of a tiny satellite dish–shaped thing. Just by looking at them, you'd never know.
When many of these pairs were discovered, sometimes decades apart, sometimes growing right next to each other, it was difficult or impossible to demonstrate that they were the same thing. So one species would get two names. Careful observation later suggested that officially different species are actually one, but the pairs of names remained. In fact, it soon became standard mycological practice to name many species twice — once for the sexual form, once for the asexual one.
Now, mycologists have a chance to set the record straight. A group of upstart scientists has rebelled against the dual-naming system, arguing that DNA analysis can endow fungi with a one-species, one-name system. Having won a major victory at a recent international scientific congress, they are poised to bring their field into a new era of genetic nomenclature. But however justified genetically, their project is not without perils.