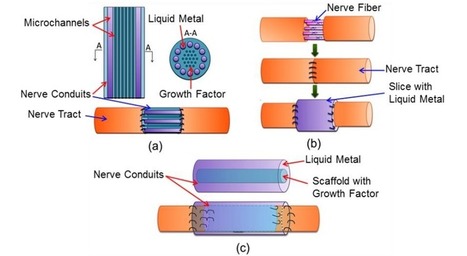 Chinese biomedical engineers have used liquid metal to transmit electrical signals across the gap in severed sciatic nerves. The work raises the prospect of a new treatment for nerve injuries, they say.
When peripheral nerves are severed, the loss of function leads to atrophy of the effected muscles, a dramatic change in quality of life and, in many cases, a shorter life expectancy.
Despite decades of research, nobody has come up with an effective way to reconnect nerves that have been severed. Various techniques exist to sew the ends back together or to graft nerves into the gap that is created between severed ends.
Ultimately, the success of these techniques depends on the ability of the nerve ends to grow back and knit together. But given that nerves grow at the rate of one mm per day, it can take a significant amount of time, sometimes years, to reconnect. And during this time, the muscles can degrade beyond repair, leading to long-term disability.
So neurosurgeons have long hoped for a way to keep muscles active while the nerves regrow. One possibility is to electrically connect the severed ends so that the signals from the brain can still get through. But how to do this effectively?
Today, Jing Liu at Tsinghua University in Beijing and a few pals say they've reconnected severed nerves using liquid metal for the first time. And they say that in conducting electrical signals between the severed ends of a nerve, the metal dramatically outperforms the standard saline electrolyte used to preserve the electrical properties of living tissue.
Biomedical engineers have been eyeing the liquid metal alloy gallium-indium-selenium for some time (67 percent Ga, 20.5 percent In and 12.5 percent Sn by volume). This material is liquid at body temperature and is thought to be entirely benign. Consequently, they have been studying various ways of using it inside the body, such as for imaging.