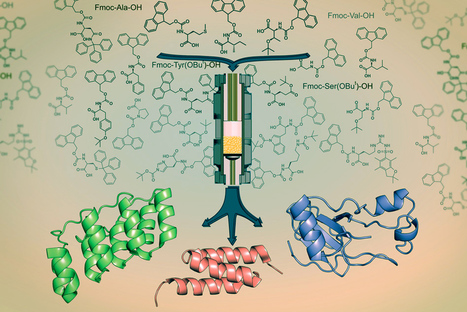 Peptide drugs are expected to become a $25 billion market by 2018, but current archaic manufacturing methods are too slow and cumbersome.
Small protein fragments, also called peptides, are promising as drugs because they can be designed for very specific functions inside living cells, but manufacturing the peptides takes several weeks, making it difficult to obtain large quantities, and to rapidly test their effectiveness.
A team of MIT chemists and chemical engineers has designed a way to manufacture peptides in mere hours. The new system, described in a recent issue of the journal ChemBioChem, could have a major impact on peptide drug development, says Bradley Pentelute, an assistant professor of chemistry and leader of the research team.
"Peptides are ubiquitous. They're used in therapeutics, they're found in hydrogels, and they're used to control drug delivery. They're also used as biological probes to image cancer and to study processes inside cells," Pentelute says. "Because you can get these really fast now, you can start to do things you couldn't do before."
Insulin and the HIV drug Fuzeon are some of the earliest successful examples, and peptide drugs are expected to become a $25 billion market by 2018, the researchers say.
Therapeutic peptides usually consist of a chain of 30 to 40 amino acids, the building blocks of proteins. Many universities, including MIT, have facilities to manufacture these peptides, but the process usually takes two to six weeks, using machines developed about 20 years ago. These machines require about an hour to perform the chemical reactions needed to add one amino acid to a chain.
To speed up the process, the MIT team adapted the synthesis reactions so they could be done in a continuous flow system. Using this approach, each amino acid addition takes only a few minutes, and an entire peptide can be assembled in little more than an hour.
In future versions, "we think we're going to be able to do each step in under 30 seconds," says Pentelute, who is also an associate member of the Broad Institute. "What that means is you're really going to be able to do anything you want in short periods of time."
The new system has storage vessels for each of the 20 naturally occurring amino acids, connected to pumps that pull out the correct one. As the amino acids flow toward the chamber where the reaction takes place, they travel through a coil where they are preheated to 60 degrees Celsius, which helps speed up the synthesis reaction.