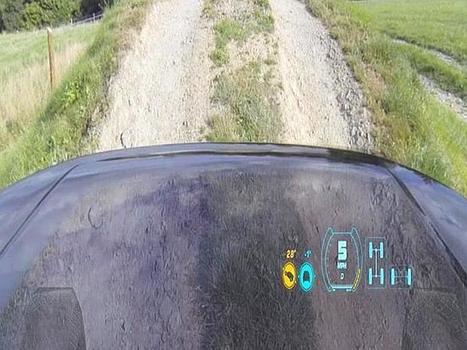 IT could be the biggest breakthrough in driveway safety yet — even though it was originally designed to help four-wheel-drives navigate tricky bush tracks.
Land Rover has come up with a camera system that appears to make the bonnet invisible — by projecting the image of what's below, into the windscreen directly in front of the driver. While there is a public push to make rear-view cameras mandatory on new cars, figures show that 40 per cent of driveway deaths occur when vehicles are driven forwards because the view is obscured by the large bonnets of family-sized SUVs. The British brand developed the technology for off-road use to help drivers navigate obstacles with ease.
But the system, unveiled on the eve of the New York motor show, could find more regular use in driveways. Tiny cameras fitted below the grille are paired with a display that is projected into the windscreen so that it appears as if the vehicle's bonnet is transparent. The system is only at the experimental stage for now but is expected to be available on the new Land Rover Discovery, due on sale next year.
The Land Rover concept also has lasers mounted in the front fog lights that continuously scan the terrain ahead "and renders a contour map" on the screen in the dash to help drivers plot a path off the beaten track. The same lasers can also test the depth of water in river crossings, Land Rover says. Camera technology is making rapid progress in new cars of all shapes and sizes. Japanese car maker Nissan has unveiled a new rear-view "mirror" that actually shows the view from a camera instead.
Originally scooped by @Onisha Ellis