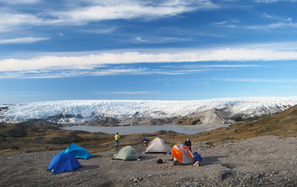 NSF's mission is to advance the progress of science, a mission accomplished by funding proposals for research and education made by scientists, engineers, and educators from across the country.
Some of the landscape underlying the massive Greenland ice sheet may have been undisturbed for almost 3 million years, ever since the island became completely ice-covered, according to researchers funded by the National Science Foundation (NSF).
Basing their discovery on an analysis of the chemical composition of silts recovered from the bottom of an ice core more than 3,000 meters long, the researchers argue that the find suggests "pre-glacial landscapes can remain preserved for long periods under continental ice sheets."
In the time since the ice sheet formed "the soil has been preserved and only slowly eroded, implying that an ancient landscape underlies 3,000 meters of ice at Summit, Greenland," they conclude.
They add that "these new data are most consistent with [the concept of] a continuous cover of Summit… by ice … with at most brief exposure and minimal surface erosion during the warmest or longest interglacial periods."
They also note that fossils found in northern Greenland indicated there was a green and forested landscape prior to the time that the ice sheet began to form. The new discovery indicates that even during the warmest periods since the ice sheet formed, the center of Greenland remained stable, allowing the landscape to be locked away, unmodified, under ice through millions of years of cyclical warming and cooling.
"Rather than scraping and sculpting the landscape, the ice sheet has been frozen to the ground, like a giant freezer that's preserved an antique landscape", said Paul R. Bierman, of the Department of Geology and Rubenstein School of the Environment and Natural Resources at the University of Vermont and lead author of the paper.