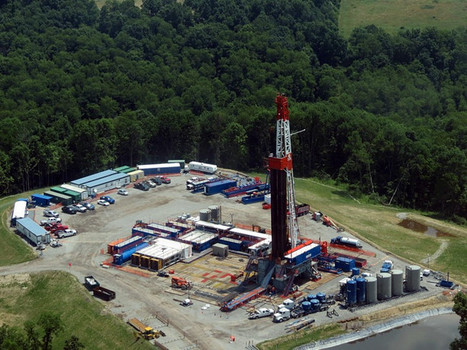 Drilling operations at several natural gas wells in southwestern Pennsylvania released methane into the atmosphere at rates that were 100 to 1,000 times greater than federal regulators had estimated, new research shows.
Using a plane that was specially equipped to measure greenhouse gas emissions in the air, scientists found that drilling activities at seven well pads in the booming Marcellus shale formation emitted 34 grams of methane per second, on average. The EPA has estimated that such drilling releases between 0.04 grams and 0.30 grams of methane per second.
The study, published Monday in the Proceedings of the National Academy of Sciences, adds to a growing body of research that suggests the EPA is gravely underestimating methane emissions from oil and gas operations. The agency is expected to issue its own analysis of methane emissions from the oil and gas sector as early as Tuesday, which will give outside experts a chance to assess how well regulators understand the problem.
Carbon dioxide released by the combustion of fossil fuels is the biggest contributor to climate change, but methane — the chief component of natural gas — is about 20 to 30 times more potent when it comes to trapping heat in the atmosphere. Methane emissions make up 9% of the country's greenhouse gas emissions and are on track to increase, according to the White House.
The Pennsylvania study was launched in an effort to understand whether the measurements of airborne methane matched up with emissions estimates based on readings taken at ground level, the approach the EPA and state regulators have historically used.
Researchers flew their plane about a kilometer above a 2,800 square kilometer area in southwestern Pennsylvania that included several active natural gas wells. Over a two-day period in June 2012, they detected 2 grams to 14 grams of methane per second per square kilometer over the entire area. The EPA's estimate for the area is 2.3 grams to 4.6 grams of methane per second per square kilometer.