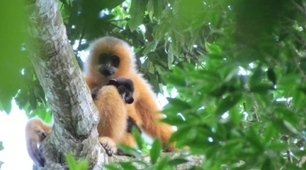 Rescue bid launched to save Hainan gibbon from becoming first ape driven to extinction by humans.
China's wildlife conservation efforts are under scrutiny as scientists battle to save a species found only in a tiny corner of an island in the South China Sea. The Hainan gibbon is the world's rarest primate and its long-term survival is in jeopardy, according to an analysis.
Only 23 to 25 of the animals are thought to remain, clustered in less than 20 square kilometers of forest in China's Hainan Island. The species (Nomascus hainanus), which numbered more than 2,000 in the late 1950s, has been devastated through the destruction of habitat from logging, and by poaching. Extinction would give the gibbon the unwelcome distinction of being the first ape to be wiped out because of human actions. To hammer out a plan to save it, international primate researchers convened an emergency summit in Hainan last month.
"With the right conservation management, it is still possible to conserve and recover the Hainan gibbon population," says meeting co-chair Samuel Turvey, who studies animal extinctions at the Zoological Society of London (ZSL). "But given the current highly perilous state of the species, we cannot afford to wait any longer before initiating a more proactive and coordinated recovery programme." He adds that the meeting was a successful first step towards saving the animal and that a plan of action is being finalized.
The plan will be based in part on a 'population viability analysis' that models the potential size of the gibbon population in coming decades for a range of different scenarios. It is being drawn up by Kathy Traylor Holzer, a conservation planner at the Conservation Breeding Specialist Group in Apple Valley, Minnesota. "It's one of the smallest populations I've ever worked with," says Traylor Holzer. "That number — in one place — is extremely scary."