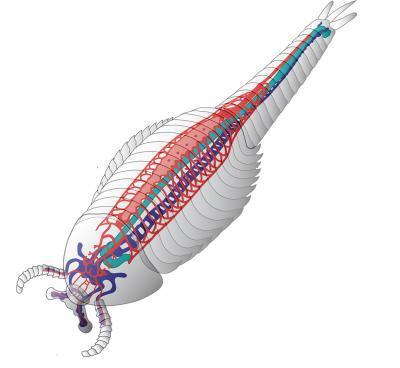 In 520 million-year-old fossil deposits resembling an 'invertebrate version of Pompeii,' researchers have found an ancestor of modern crustaceans revealing the first-known cardiovascular system in exquisitely preserved detail. The organ system is surprisingly complex and adds to the notion that sophisticated body plans had already evolved more than half a billion years ago.
"This is the first preserved vascular system that we know of," said Nicholas Strausfeld, a Regents' Professor of Neuroscience at the University of Arizona's Department of Neuroscience, who helped analyze the find. Being one of the world's foremost experts in arthropod morphology and neuroanatomy, Strausfeld is no stranger to finding meaningful and unexpected answers to long-standing mysteries in the remains of creatures that went extinct so long ago scientists still argue over where to place them in the evolutionary tree.
The 3-inch-long fossil was entombed in fine dustlike particles – now preserved as fine-grain mudstone - during the Cambrian Period 520 million years ago in what today is the Yunnan province in China. Found by co-author Peiyun Cong near Kunming, it belongs to the species Fuxianhuia protensa, an extinct lineage of arthropods combining advanced internal anatomy with a primitive body plan.
"Fuxianhuia is relatively abundant, but only extremely few specimens provide evidence of even a small part of an organ system, not even to speak of an entire organ system," said Strausfeld, who directs the UA Center for Insect Science. "The animal looks simple, but its internal organization is quite elaborate. For example, the brain received many arteries, a pattern that appears very much like a modern crustacean."