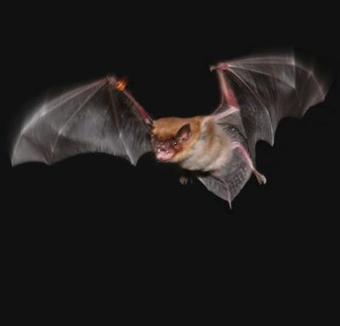 Look into the spring sky at dusk and you may see flitting groups of bats, gobbling up insect meals in an intricately choreographed aerial dance. It's well known that echolocation calls keep the bats from hitting trees and each other. But now scientists have learned some bats emit another call: one that tells their comrades to "back off" from bugs they've claimed for themselves.
As the researchers examined audio recordings from two bats flying and foraging together, they noticed calls that seemed different from typical echolocation. To find out more, they analyzed video and audio recordings of bats' flight paths and calls, while male and female big brown bats flew alone and in pairs foraging for tethered mealworms. This led them to discover the special call they dubbed FMB.
The FMB is an ultrasonic social call that uniquely identifies the bat emitting it. It is a sequence of three to four sounds, longer in duration and lower in frequency than the typical echolocation pulses that big brown bats use to navigate. It is often followed by short buzz-like calls.
The researchers found the FMB increases the caller's success in snagging the insect for himself. After hearing the FMB, other bats increased their distance from the caller and moved away from the prey.
"When two males flew together in a trial, it was not uncommon for each bat to emit FMBs," says Wright. "We found that the bat emitting the greatest number of FMBs was more likely to capture the mealworm."
While some animals that forage in groups are known to emit calls to attract others towards food sources, the FMB is used to repel, not attract, other bats.