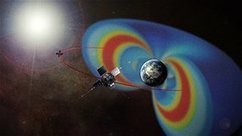 A weird zebra-stripe pattern discovered in Earth's inner Van Allen radiation belt is generated by the planet's rotation, according to new research.
The study, reported in the journal Nature, changes science's understanding of Earth's radiation belts, and may provide new insights into the complicated dynamics of similar belts around other planets. It also overturns previously held views that they were caused by geomagnetic storms from the Sun.
"These radiation belts were discovered more than 50 years ago, so it's very rewarding and exciting to find something completely unexpected," says the study's lead author Dr Sasha Ukhorskiy of Johns Hopkins University in Maryland.
"These were some of the first scientific discoveries ever made in space, and we're still finding out new things."
Earth's Van Allen radiation belts are composed of electrons and ions held in place by the planet's magnetic field. Early data from NASA's twin Van Allen Probe spacecraft detected the unusual zebra-stripe pattern in the energy spectra of electrons in the inner radiation belt. The pattern is caused by different electron energy densities at different altitudes.
"A cross-section of these stripes shows a recurring regular up and down pattern of electron energy intensity and flux distribution," says Ukhorskiy.
"This happens because the inner belt is very stable and not as dynamically variable as the outer radiation belt, or the recently discovered third belt."
The phenomenon was thought to be generated by interactions with space weather events from the Sun, such as Coronal Mass Ejections, and the strength of the solar wind flux.
Via
Mariaschnee