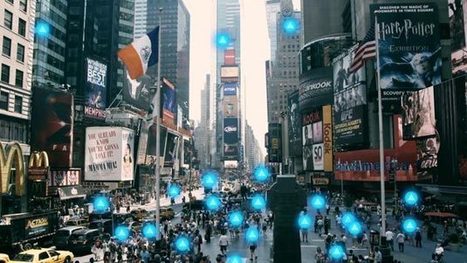 Entrepreneur Steve Perlman unveils a new version of his wireless technology, which could give each mobile device its own super-fast connection.
Steve Perlman is ready to give you a personal cell phone signal that follows you from place to place, a signal that's about 1,000 times faster than what you have today because you needn't share it with anyone else.
Perlman — the iconic Silicon Valley inventor best known for selling his web TV company to Microsoft for half a billion dollars — started work on this new-age cellular technology a decade ago, and on Wednesday morning, he'll give the first public demonstration at Columbia University in New York, his alma mater.Previously known as DIDO, the technology is now called pCell — short for "personal cell" — and judging from the demo Perlman gave us at his lab in San Francisco last week, it works as advertised, streaming video and other data to phones with a speed and a smoothness you're unlikely to achieve over current cell networks.
"It's a complete rewrite of the wireless rulebook," says Perlman, who also helped Apple create QuickTime, the technology that brought video to the Macintosh. "Since the invention of wireless, people have moved around the coverage area. Now, the coverage area follows you."
"That will shock people," Perlman said in an interview. "It means we have hundreds of millions of devices out there that are ready to go."
Under Perlman's pCell system, interference from the cells is not an issue. Instead of blasting out a dumb signal across a given area, Perlman and his team of researchers have developed a smart transmission system. Their networking equipment locates a device like a smartphone and uses complex mathematical operations to create a unique signal—hence the personal cell idea—just for that device. The upshot of this is that you can place the pCell transmitters anywhere and not worry about their signals bleeding into each other. And instead of sharing a signal, each person gets to tap into close to the full capacity of the transmitter. "We believe this is the largest increase in capacity in the history of wireless technology," says Perlman. "It's like the wireless equivalent of fiber-optic cables."
Artemis Networks is the company Perlman has formed to sell this technology. It's in the process of putting pCell transmitters on about 350 rooftops in San Francisco, and Perlman is looking to work with a telco or technology company like Google(GOOG) or Microsoft (MSFT) to get a commercial service running in the fourth quarter. "We'll do San Francisco first and then do New York, Chicago, Dallas, and other congested cities," says Perlman.
To work properly, a company backing the pCell technology would need to build out a large data center in addition to deploying the transmitters. It's in the data center where servers constantly crunch away on the algorithms that form the unique wireless stream aimed at each device. As people move about, the servers must keep recalculating and processing a new stream. Perlman expects that a single data center could satisfy the needs of a city like San Francisco.
Perlman has spent about 10 years working on this technology with a handful of employees. I paid a recent visit to their San Francisco laboratory and saw the technology working firsthand. Perlman had put a few of the transmitters up near the ceiling and was able to direct a wireless beam right at a device in my hand. Despite such demonstrations, Perlman has been unable to tempt venture capitalists with the technology. "They invariably bring in experts who say it doesn't really work," he says. "I am showing them a demo, but they remain convinced that it's something else."
Perlman, who made millions selling WebTV to Microsoft, has funded all of this himself, and he declines to reveal the exact amount spent so far. He will show off the pCell technology at Columbia University on Wednesday during a midday lecture.