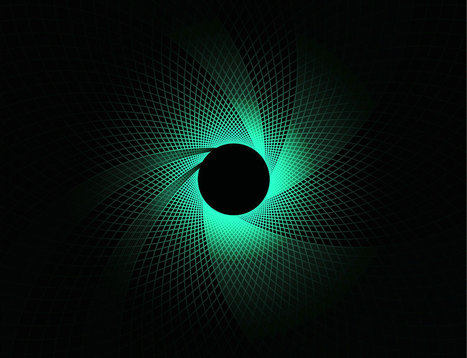 Tiny exploding black holes that formed from crinkled bits of the big bang might just explain where most of the universe's mass is hiding, says Marcus Chown.
It sounds like a theorist's pipe dream, but then physics is a strange business. Actually, exactly this sort of set-up could have existed in the universe's infancy, says Abraham Loeb, who is head of astronomy at Harvard University. That is, it could if a third class of black hole were to exist beyond the stellar-mass and supermassive types.
The basic premise of such "primordial" black holes is simple, and the idea has been around for a while. Our observable universe is surrounded by a horizon that marks the furthest points from which light can have travelled to us in the 13.8 billion years or so since the big bang. If the density of matter within this horizon is greater than a critical value, its gravitational attraction will at some point in the future cause everything to collapse down on itself in a "big crunch" – a kind of big bang in reverse.
The same would have been true of the universe in its earliest moments.
Back then, the horizon seen from any point in space would have encompassed a much smaller region. If any particular region within the wider universe were to have a density greater than the critical density, it would begin to collapse. "All the stuff within it – essentially photons – would shrink down in a big crunch to form a primordial black hole," says Loeb.
As the universe grows, the potentially collapsible regions within it grow too. Because these regions contain more mass, the mass of the black holes that can form in this way also increases. At the same time, though, the likelihood of sustaining a large enough density fluctuation to start such a collapse decreases. This means that if primordial black holes exist, the bulk of them are likely to be very small; from microscopic ones with masses less than that of the moon to ones the size of a fridge with the mass of Jupiter.
Loeb thinks such black holes might provide an identity for dark matter. To make our standard cosmology work and keep galaxies and the like stuck together, this invisible stuff must outweigh visible stars and galaxies by a factor of about 5.5. Most physicists believe it takes the form of a soup of hitherto-unknown subatomic particles, but Loeb suggests they are barking up the wrong tree. "The subatomic particles are predicted by speculative theories of particle physics, whereas we have strong observational evidence that black holes exist, spanning a wide range of masses," he says. "It's really not such a leap of faith to imagine them as the dark matter."