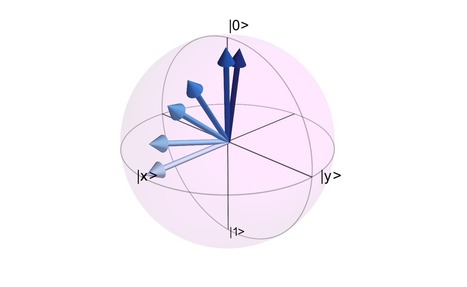 Scientists from the FOM Foundation and Delft University of Technology have manipulated a quantum particle, merely by looking at it in a smart way. By adjusting the strength of their measurement according to earlier measurement outcomes, they managed to steer the particle towards a desired state.
In earlier work the group showed that it is possible to measure the orientation of a single spin, in analogy to fully opening Schrödinger's box. To partially open the box, the scientists used a trick. Instead of directly measuring the nucleus, they first coupled the state of the nucleus to a nearby electron. They then determined the state of the electron.

By varying the strength of the coupling between the nucleus and the electron, the scientists could carefully tune the measurement strength. A weaker measurement reveals less information, but also has less back-action. An analysis of the nuclear spin after such a weak measurement showed that the nuclear spin remained in a (slightly altered) superposition of two states. In this way, the scientists verified that the change of the state (induced by the back-action) precisely matched the amount of information that was gained by the measurement.


The scientists realised that it is possible to steer the nuclear spin by applying sequential measurements with varying measurement strength. Since the outcome of a measurement is not known in advance, the researchers implemented a feedback loop in the experiment. They chose the strength of the second measurement depending on the outcome of the first measurement. In this way the scientists could steer the nucleus towards a desired superposition state by only looking at it.
This result provides new insight in the role of measurements in quantum mechanics. Furthermore the combination of measurements and feedback, as demonstrated here, form an essential building block for the future quantum computer. Finally, these techniques can increase the sensitivity of magnetic field sensors.