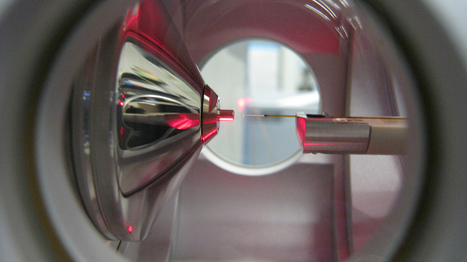 Goddard Astrobiology Analytical Laboratory scientists have applied advanced technology to inspect extremely small meteorite samples for the components of life. "We found amino acids in a 360 microgram sample of the Murchison meteorite," said Callahan. "This sample size is 1,000 times smaller than the typical sample size used. "We got the same results looking at a very small fragment as we did a much larger fragment from the same meteorite."
Callahan said these techniques will allow the scientists to investigate other small-scale extraterrestrial materials such as micrometeorites, interplanetary dust particles, and cometary particles in future studies.
The team used a nanoflow liquid chromatography instrument to sort the molecules in the meteorite sample, then applied nanoelectrospray ionization to give the molecules an electric charge and deliver them to a high-resolution mass spectrometer instrument, which identified the molecules based on their mass. "We are pioneering the application of these techniques for the study of meteoritic organics," said Callahan.
This technology and the laboratory techniques that the Goddard lab develops to apply it to analyze meteorites will be valuable for future sample-return missions since the amount of sample likely will be limited.
"Missions involving the collection of extraterrestrial material for sample return to Earth usually collect only a very small amount and the samples themselves can be extremely small as well," said Callahan.
"The traditional techniques used to study these materials usually involve inorganic or elemental composition. Targeting biologically relevant molecules in these samples is not routine yet. We are not there either, but we are getting there."
REFERENCES: