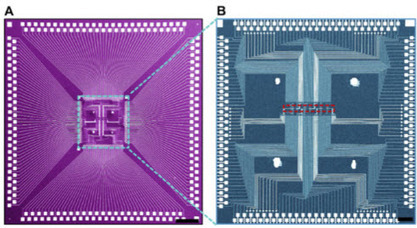 An interdisciplinary team of scientists and engineers from The MITRE Corporation and Harvard University have taken key steps toward ultra-small electronic computer systems that push beyond the imminent end of Moore's Law. They designed and assembled, from the bottom up, a functioning, ultra-tiny control computer (nanocontroller) that they say is the densest nanoelectronic system ever built.
The "nanoelectronic finite-state machine" ("nanoFSM") or nanocomputer measures 0.3 x 0.03 millimeters. It is composed of hundreds of nanowire transistors, each an under-20 nanometers switch. The nanowire transistors use very little power because they are "nonvolatile" — the switches remember whether they are on or off, even when no power is supplied to them.
In the nanoFSM, these nanoswitches are assembled and organized into circuits on several "tiles" (modules). Together, the tiles route small electronic signals around the computer, enabling it to perform calculations and process signals that could be used to control tiny systems, such as miniscule medical therapeutic devices, other tiny sensors and actuators, or even insect-sized robots.
In 2011, the MITRE-Harvard team demonstrated a single such tiny tile capable of performing simple logic operations (ultra-tiny nanocircuits). In their recent collaboration they combined three tiles on a single chip to produce a first-of-its-kind complex programmable nanocomputer.
"It was a challenge to develop a system architecture and nanocircuit designs that would pack the control functions we wanted into such a very tiny system," according to Shamik Das, chief architect of the nanocomputer, who is also principal engineer and group leader of MITRE's Nanosystems Group. "Once we had those designs, though, our Harvard collaborators did a brilliant job innovating to be able to realize them."