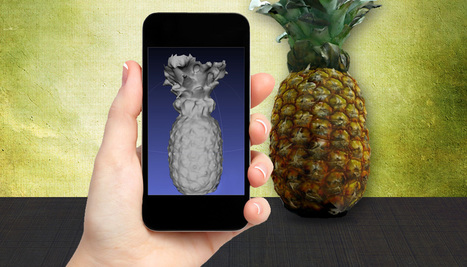 Traditionally, 3-D scanning has required expensive laser scanner equipment, complicated software, and technological expertise.
But MIT spinout Viztu Technologies helped change that: Back in 2011, Viztu released software, free online, that essentially replaced expensive scanning hardware with personal cameras. This innovation led to a rapidly rising commercial enterprise that concluded with Viztu's sale to a tech giant, which is now bringing the technology to the public worldwide.
Viztu's flagship web service, Hypr3D, could rapidly generate digital 3-D models of an object (human or inanimate) or scene from a series of user-uploaded 2-D digital photos or videos, usually captured by digital cameras, smartphones, or webcams.
"We gave people the easiest scanner available: the cameras they already owned," says Thomas Milnes PhD '13, Viztu's chief technology officer, who developed the software behind Hypr3D as part of his MIT dissertation. "Now it only takes a smartphone or digital camera a few minutes online to build a 3-D model and only a few moments more to send it off to be 3-D printed."
Less than a year after launching Hypr3D, Viztu—co-founded by Milnes and CEO Michael "Ash" Martin MBA '10—boasted thousands of users and tens of thousands of model views and downloads.
But while Hypr3D was freely available, the company was making significant revenue: Big-name clients were contracting Viztu to tailor its technology to their own unique applications, from 3-D filmmaking to 3-D mapping.
Shortly after taking the grand prize in the "Innovative Web" track at the South by Southwest (SXSW) Accelerator competition in 2012, Viztu sold to 3-D Systems, one of the world's leading 3-D printing companies. Since the acquisition, 3-D Systems has integrated Viztu's software into its global Cubify consumer platform.
After helping 3-D Systems integrate the Viztu technology, Milnes returned to MIT to finish his PhD in mechanical engineering. He is now working with two other MIT alumni on another startup, OpenWater Power, developing a novel and nontoxic fuel cell for underwater vehicles that can outlast traditional lithium-ion batteries. Martin is still with 3-D Systems, running its consumer products division—including the Cubify software platform that includes much of Viztu's original work.