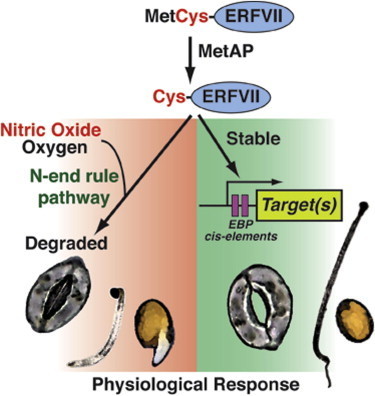 The elusive trigger that allows plants to 'see' the gas nitric oxide (NO), an important signalling molecule, has been tracked down by scientists at The University of Nottingham.
Plants fine-tune their growth and survival in response to various signals, including internal hormones and external factors such as light or temperature. Nitric oxide gas is one such signal.
Professor Holdsworth said: "In plants, NO regulates many different processes throughout the plant's lifetime from seeds to flowering and responses to the environment. Although the effect of NO on plants has been known for many years, a general mechanism for the initial sensing of this important molecule has remained elusive. We have identified a small number of key proteins, called transcription factors, which act as 'master sensors' to control NO responses throughout the plant life cycle."
Nitric oxide (NO) is an important signaling compound in prokaryotes and eukaryotes. In plants, NO regulates critical developmental transitions and stress responses. Scientists now identified a mechanism for NO sensing that coordinates responses throughout development based on targeted degradation of plant-specific transcriptional regulators, the group VII ethylene response factors (ERFs). They show that the N-end rule pathway of targeted proteolysis targets these proteins for destruction in the presence of NO, and thus establish them as critical regulators of diverse NO-regulated processes, including seed germination, stomatal closure, and hypocotyl elongation. Furthermore, the researchers could define the molecular mechanism for NO control of germination and crosstalk with abscisic acid (ABA) signaling through ERF-regulated expression of ABSCISIC ACID INSENSITIVE5 (ABI5). This important work demonstrates how NO sensing is integrated across multiple physiological processes by direct modulation of transcription factor stability and identifies group VII ERFs as central hubs for the perception of gaseous signals in plants.