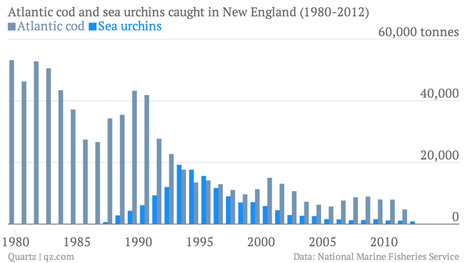 Thanks to surging demand for seafood and woefully inaccurate catch reporting, overfishing is out of control. And new research now argues (paywall) that it's a problem that, in many ecosystems, might be permanent.
By removing one of its species, overfishing "flips" an ecosystem into an "alternative state," explains the University of Maine's Robert Steneck, one of the report's authors. It sets off a complex reshuffling among remaining species. Often, this "locks" the ecosystem into a "alternative stable state"—meaning, the species of fish can't come back.
This could have devastating implications for the world's food supply. "Ecosystem flips and locks that convert the ocean to a bacterial soup that favors jellyfish rather than finfish will not sustain the protein we need to feed the 9 billion to 11 billion people expected to show up on Earth over the coming decades," says Mary Power, of the University of California, Berkeley, who co-authored the study.
Sardines and anchovies had once kept jellyfish populations in check by gobbling up plankton, which jellyfish also eat. Worse, jellyfish also fed on the eggs of the remaining sardine and anchovy population. That's why, by 2006, the northern Benguela waters teemed with 12.2 million tons of jellyfish — and just 3.6 million tons of fish. In turn, populations of penguins and cap gannets, which ate primarily sardines and anchovies, plummeted by 77% and 94%, respectively.
Why does this keep happening? Steneck cites an increasingly industrial fishing industry—and blissfully unaware consumers. "What we have today are multinational fleets of 'roving bandits' that conduct serial depletions and move to more productive grounds," he says. "People in the US are insulated from the reality of overfishing by seeing fish well stocked in their grocery stores."