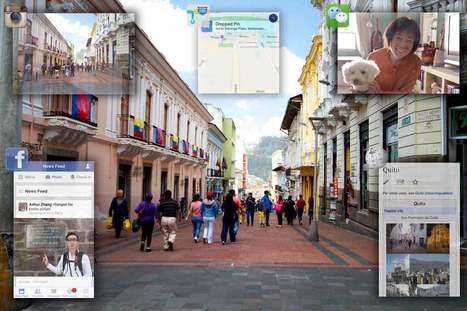 Innovega Inc. is demonstrating at CES prototypes of what looks like the most radical augmented-reality eyewear yet. Innovega CEO Steve Willey Monday runs down the specs of their iOptik design: binocular 720 x 1280 pixels, 3D (depth) vision, and a humungous field of view of 90 degrees, as shown in the image above. That's six times the number of pixels and 46 times the screen size of Google Glass using designs based on conventional optics, Willey claimed.
These specs are hard to believe. It would be almost like peering into an Oculus Rift VR display (except for Rift's superior forthcoming 1080p res and 110 degrees FOV), with its huge optics system, but also seeing through to the real world. Or like looking at a 240-inch diagonal TV set from ten feet away, as Willey claimed.
But then he explained the trick: a bifocal contact lens in each eye to replace the huge optics, reducing the focal length down to about 1/2 inch. Microprojectors bounce images off sunglasses or clear glasses onto the contact lenses. More info here.
Great for 3D movies, gaming (with 360 degrees), and augmented reality, for starters. How about wearers of contact lenses? Willey shot back with with stats: 100 million 18 to 34-year-old consumers already wear contact lenses worldwide (due to high incidence of vision myopia, with high penetration of wearers in countries like Singapore, HK, Korea and growing at a high rate in China) — the same people interested in gaming, smartphones, and media-rich content and apps.
The glasses will probably be available within the next two to three years and will cost around $500 to start," he said, explaining that they plan to license the technology to partner companies.