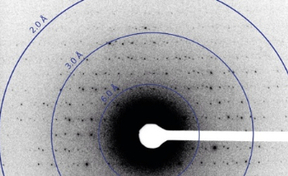 For structural biologists, the first step in determining a protein's precise molecular structure is often the hardest: coaxing the protein to grow into the orderly, three-dimensional crystals that are the starting material for most structural studies. For particularly difficult cases, it can take years to generate usable crystals – and sometimes the protein never crystallizes despite intense effort. Howard Hughes Medical Institute (HHMI) scientists have developed a new method that generates a high-resolution protein structure from crystals one-million times smaller than those needed for X-ray crystallography, the most common method for determining protein structure.
The new technique, called MicroED (micro electron diffraction), has the potential to accelerate structural biologists' efforts and to expand the repertoire of proteins whose high-resolution structures can be solved. "Biochemically, it is always easier to generate smaller crystals," says structural biologist Tamir Gonen, who developed the technique with colleagues in his lab at HHMI's Janelia Farm Research Campus. "There are many proteins where you either don't get crystals or you get crystals that are very, very small. They might be good enough for microED."
Gonen and colleagues describe MicroED in a report published November 19, 2013, in the open access journal eLife. Using Gonen's new technique, scientists can use electrons from an electron microscope to determine the structure of protein microcrystals. This approach, known as electron crystallography, had previously been limited to studies of proteins that could be grown into very thin, two-dimensional crystals. "People have put 3D crystals in electron microscopes before, but no one was able to solve their structures," Gonen says.