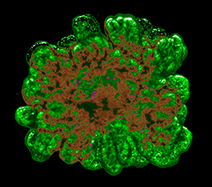 With diabetes at epidemic levels in the U.S., and worldwide rates growing ever higher, new and improved insulin delivery methods are constantly in vogue. Devices like the artificial pancreas, insulin pills, inhaled treatments--all of these have some iteration with clinical results to show. And researchers are now in the very early stages of creating a true miniature pancreas from stem cells.
Scientists at the Danish Stem Cell Centre have shown that they can "grow" mouse pancreatic cells into expanded, branched structures in a 3D culture. In the long term, this could have implications for building a human pancreas, which, although currently envisioned as a drug-testing tool, could also lead to insulin-producing mini-organs built from stem cells, according to a report from the University of Copenhagen.
In work published in the journal Development, the team studied first and foremost how these cells proliferate on their own. The scientists noted in particular the development potential of pancreas cells, demonstrating that cells in a cluster have a community effect that allows them to expand more efficiently than individual cells. Down the road, this information could lead to a more fully developed method of creating beta cells, which produce the insulin-releasing characteristic of a healthy pancreas, according to the abstract.
Via
Jacob Blumenthal
,
Carlos Garcia Pando