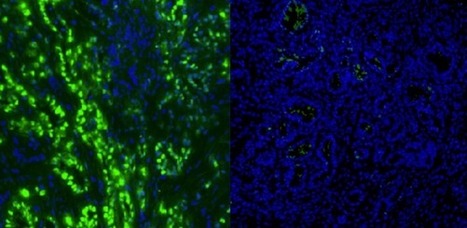 A possible new method for treating pancreatic cancer which enables the body's immune system to attack and kill cancer cells has been developed by researchers.
The method uses a drug which breaks down the protective barrier surrounding pancreatic cancer tumours, enabling cancer-attacking T cells to get through. The drug is used in combination with an antibody that blocks a second target, which improves the activity of these T cells.
Cancer immune evasion is well described. In some cases, this may be overcome by enhancing T-cell responses. Researchers show that despite the presence of antitumor T cells, immunotherapeutic antibodies are ineffective in a murine pancreatic cancer model recapitulating the human disease. Removing the carcinoma-associated fibroblast (CAF) expressing fibroblast activation protein (FAP) from tumors permitted immune control of tumor growth and uncovered the efficacy of these immunotherapeutic antibodies. FAP+ CAFs are the only tumoral source of chemokine (C-X-C motif) ligand 12 (CXCL12), and administering AMD3100, an inhibitor of chemokine (C-X-C motif) receptor 4, a CXCL12 receptor, also revealed the antitumor effects of an immunotherapeutic antibody and greatly diminished cancer cells.
Initial tests of the combined treatment, carried out by researchers at the University's Cancer Research UK Cambridge Institute, resulted in almost complete elimination of cancer cells in one week. The findings, reported in the journal PNAS, mark the first time this has been achieved in any pancreatic cancer model. In addition to pancreatic cancer, the approach could potentially be used in other types of solid tumour cancers. These findings may have wide clinical relevance because FAP+ cells are found in almost all human adenocarcinomas.