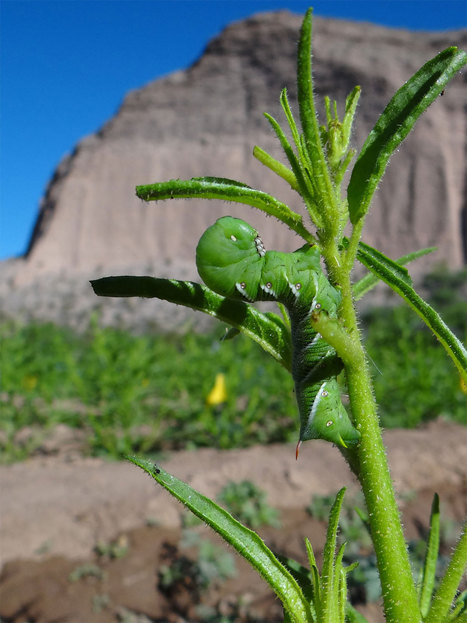 Manduca sexta (Ms) larvae are known to efficiently excrete ingested nicotine when feeding on their nicotine-producing native hostplant, Nicotiana attenuata. A team of researchers at the Max Planck Institute in Germany has found that a species of hornworm uses nicotine it gets from eating tobacco plants, as a means of defense. In their paper published in Proceedings of the National Academy of Sciences, the team describes how they found changes in defensiveness in hornworms when fed genetically altered (low-nicotine) tobacco plants.

The tobacco hornworm is actually a caterpillar—prior to turning into a butterfly, it lives on and eats tobacco leaves—an activity that would kill most other organisms due to the nicotine in the plants. But the tobacco hornworm has evolved in such a way as to ward off the toxic properties of the chemical and has even turned it to its advantage, apparently. In this new study, the researchers in Germany wanted to know what sort of mechanism was at work that allowed the hornworm to survive eating such a poisonous plant.
That led the researchers to take a closer look at a protein called CYP6B46. Normally it's used by animals or insects to detoxify plant material. Prior to the new study, scientists assumed that hookworms were using it in the same way. But that wouldn't explain the change in behavior of the wolf spiders.

Closer examination showed that with tobacco hookworms, CYP6B46 is used to move some of the nicotine from the plants it eats into the bloodstream—from there it is routed to a part of its skin that has vent holes. By pushing the nicotine through the vent holes into the air around them, the hookworms have created a pesticide fog of sorts, preventing wolf spiders (and likely other predators) from eating them.