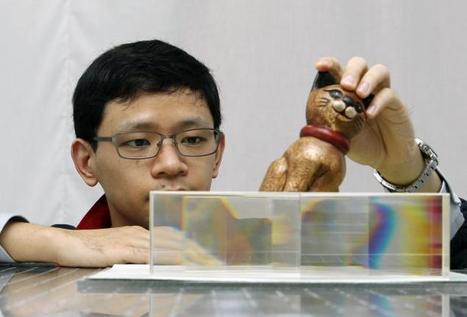 A new way of assemblingthings, called metamaterials, may in the not too distant futurehelp to protect a building from earthquakes by bending seismicwaves around it.
At the heart of both metamaterials and invisibility are waves. If electromagnetic waves - whether visible light, microwave or infrared - can be bent around an object it would not be visible on those wavelengths. It was long thought you couldn't control light in this way with natural materials as their optical properties depended on the chemistry of the atoms from which they were made.
It was only when Smith and his colleagues experimented with altering the geometry of material in the late 1990s that they found they could change the way it interacted with light, or other kinds of wave - creating metamaterials. With that, says Andrea Alu, an associate professor at the University of Texas at Austin, scientists found "it may be possible to challenge rules and limitations that were for centuries considered written in stone."
The past decade has seen an explosion in research that has built on Smith's findings to make objects invisible to at least some forms of light.
"There have now been several demonstrations of cloaking at visible wavelengths, so cloaking is truly possible and has been realised," says Jason Valentine of Vanderbilt University, who made one of the first such cloaks. These, however, have limitations - such as only working for certain wavelengths or from certain angles. But the barriers are falling fast, says Valentine.
In the past year, for example, Duke University's Yaroslav Urzhumov has made a plastic cloak that deflects microwave beams using a normal 3D printer, while Alu has built an ultra-thin cloak powered by electric current.
INVISIBLE ARMY?
Funding much of this U.S. research is the military. Urzhumov said in an email interview that the U.S. Department of Defense is "one of the major sponsors of metamaterials and invisibility research in the U.S." The Defense Advanced Research Projects Agency, which commissions advanced research for the Department of Defense, has funded research into metamaterials since 2000, according to the department's website.
Military interest in metamaterials was primarily in making a cloak, said Miguel Navarro-Cia of Imperial College London, who has researched the topic with funding from the European Defence Agency and U.S. military.