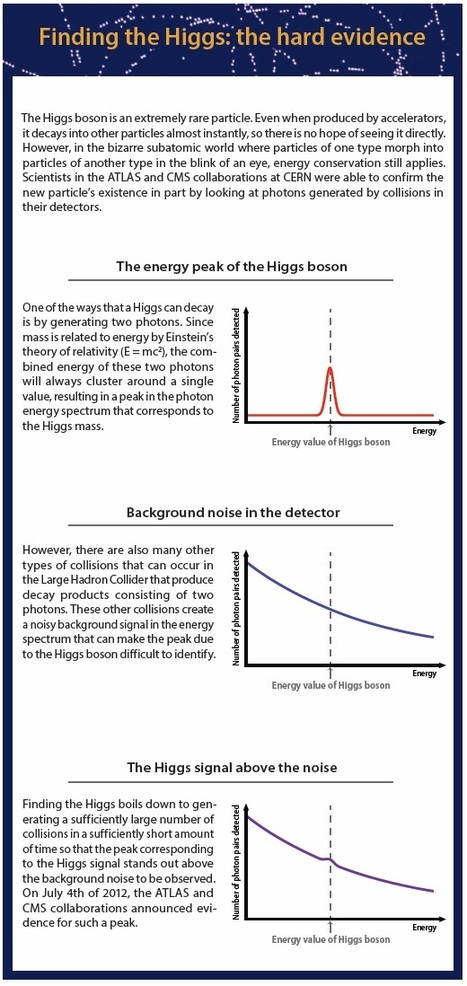 At the Large Hadron Collider near Geneva, two armies of physicists struggled to close in on the Higgs boson, the Great White Whale of modern science.
Last year, the discovery of the particle credited with giving others mass was cheerfully announced to a packed and jubilant auditorium at CERN near Geneva, Switzerland. The moment marked the end of a 50-year hunt. But although the boson has been found, there is still plenty we do not know about the celebrated particle.
When the particle's discovery was announced, researchers working with the Large Hadron Collider (LHC) at CERN resisted calling their quarry the Higgs boson outright, preferring the vaguer "Higgs-like boson", or "particle resembling the Higgs". They knew the particle they had glimpsed was a brand new boson, one of two types of elementary particle. But it was not clear if its properties corresponded exactly to those laid out for the Higgs in the standard model of particle physics, which describes all known particles and the forces acting on them.
In fact, many physicists were hoping the boson would prove to be something more exotic, because this would suggest ways to extend the standard model, which currently cannot explain dark matter or gravity, for example.
A year on, key properties known as spin and parity, as well as the exact particles the boson decays into, are gradually being pinned down, and the boson seems to be behaving as expected, leading to the award of official Higgs status in March. "We have made enough property measurements to start to convince ourselves that what we are looking at is a Higgs boson," says Oliver Buchmueller of Imperial College London, a member of the LHC's CMS collaboration, one of the two teams that announced evidence for the Higgs.
But even though it fulfils the minimum requirements of a Higgs boson, that doesn't mean it is vanilla, says Buchmueller. "The precision with which we are measuring these properties today is not sufficient to say whether this is the minimal realisation of the Higgs mechanism – or something more." One mystery that remains is why the Higgs boson decays into more photons than expected. This excess was initially reported last July. In the latest analyses, ATLAS still sees the Higgs decaying into too many photons, while in data collected by CMS there is no excess.