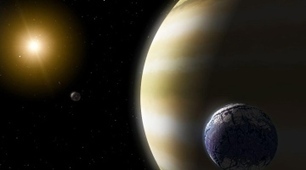 Worlds around other worlds may be habitable. Even as the number of planets known beyond the Solar System climbs above 1,000, the discovery of an accompanying exomoon has remained elusive — until, perhaps, now.
Many exoplanets probably have moons orbiting them. Some of those moons might even be large enough, and have an atmosphere, to host extraterrestrial life.
On a June night two years ago, a telescope in New Zealand captured a momentary brightening of a star in the constellation Sagittarius. It was an occurence of a rare phenomenon known as microlensing, in which a star or planet or other celestial object passes directly between Earth and a more distant star, gravitationally magnifying the light of the faraway star.
After sifting through detailed observations of this event, astronomers proposed that the intervening object could be either a smallish star with a Neptune-sized planet orbiting it, or a largish planet with a moon orbiting it. If the latter possibility is confirmed, it would be the first ever detection of an exomoon. The problem is that there is no way to repeat the observation and know for sure.
The possible discovery was reported in a paper posted on 13 December on the arXiv preprint server1. It comes from a group of scientists studying microlensing that is led by David Bennett, an astrophysicist at the University of Notre Dame in Indiana.
References