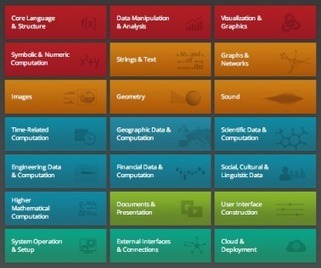 Computational knowledge. Symbolic programming. Algorithm automation. Dynamic interactivity. Natural language. Computable documents. The cloud. Connected devices. Symbolic ontology. Algorithm discovery. These are all things Stephen Wolfram and his team has been energetically working on—mostly for years—in the context of Wolfram|Alpha, Mathematica, CDF and so on.
In 2002 Stephen Wolfram released A New Kind of Science and immediately unleashed a firestorm of wonder, controversy, and criticism as the British-born scientist, programmer, and entrepreneur overturned conventional ideas on how to pursue knowledge. Earlier this month, he teased something with the capacity to create as much passion — and, likely, much more actual change — in the world of programming, computation, and applications.
Whether you think his 1,300-page tome on the future of scientific exploration is seminal or fanciful, you can't question that the man is a genius. Born of Jewish parents who fled persecution in pre-WWII Germany (remind you of another scientist?), Wolfram wrote a dictionary on physics at age 12 and three books on particle physics by the time he was 14, publishing his first scientific papers at 15.
In 1988 he released the first version of Mathematica, a platform for technical computation, and in 2009, he released the Wolfram Alpha search engine, a computational knowledge engine. His new project, he says, is a perfect marriage. "The knowledge graph is a vastly less ambitious project than what we've been doing at Wolfram Alpha," Wolfram says quickly when I bring it up. But don't compare it to Google's knowledge graph or semantic search. "It's just Wikipedia and other data."
Google wants to understand objects and things and their relationships so it can give answers, not just results. But Wolfram wants to make the world computable, so that our computers can answer questions like "where is the International Space Station right now." That requires a level of machine intelligence that knows what the ISS is, that it's in space, that it is orbiting the Earth, what its speed is, and where in its orbit it is right now.
That's not static data; that's a combination of computation with knowledge. WolframAlpha does that today, but that is just the beginning. Search engines aren't good at that, Wolfram argues, because they're too messy. Questions in a search engine have many answers, with varying degrees of applicability and "rightness." That's not computable, not clean enough to program or feed into a system. "We want to be right," Wolfram told me. "Making the world computable is a much higher bar than being able to generate Wikipedia-style information … a very different thing. What we've tried to do is insanely more ambitious."