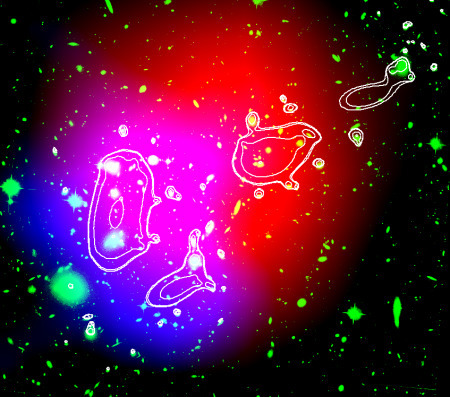 By observing a high-speed component of a massive galaxy cluster, Caltech/JPL scientists and collaborators have detected for the first time in an individual object the kinetic Sunyaev-Zel'dovich effect, a change in the cosmic microwave background caused by its interaction with massive moving objects.


MACS J0717.5+3745 is an extraordinarily dynamic galaxy cluster with a total mass greater than 1015 (a million billion) times the mass of the sun or more than 1,000 times the mass of our own galaxy. It appears to contain three relatively stationary subclusters (A, C, and D) and one subcluster (B) that is being drawn into the larger galaxy cluster, moving at a speed of 3,000 kilometers per second.
The galaxy cluster was observed by a team led by Sunil Golwala, professor of physics at Caltech and director of the Caltech Submillimeter Observatory (CSO) in Hawaii. Subcluster B was observed during what appears to be its first fall into MACS J0717.5+3745. Its momentum will carry it through the center of the galaxy cluster temporarily, but the strong gravitational pull of MACS J0717.5+3745 will pull subcluster B back again. Eventually, subcluster B should settle in with its stationary counterparts, subclusters A, C, and D.
Though subcluster B's behavior is dramatic, it fits neatly within the standard cosmological model. But the details of the observations of MACS J0717.5+3745 at different wavelengths were puzzling until they were analyzed in terms of a theory called the kinetic Sunyaev-Zel'dovich (SZ) effect.
In 1972, two Russian physicists, Rashid Sunyaev and Yakov Zel'dovich, predicted that we should be able to see distortions in the cosmic microwave background (CMB)—the afterglow of the Big Bang—whenever it interacts with a collection of free electrons. These free electrons are present in the intracluster medium, which is made up primarily of gas. Gas within dense clusters of galaxies is heated to such an extreme temperature, around 100 million degrees, that it no longer coheres into atoms. According to Sunyaev and Zel'dovich, the photons of the CMB should be scattered by the high-energy electrons in the intracluster medium and take on a measurable energy boost as they pass through the galaxy cluster.