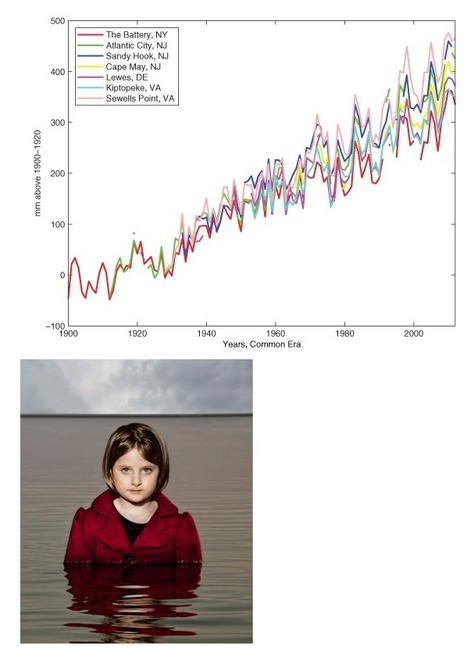 During the 20th century, sea levels along the highly populated U.S. Mid-Atlantic coastline between New York and Virginia rose faster than in any other century during the past 4,300 years, according to a new study. And as those sea levels continue to increase as a result of global warming and local land elevation changes, the risks of coastal flooding will dramatically escalate.
The study, by geoscientists at Rutgers and Tufts Universities and published in the new journal "Earth's Future," took a comprehensive look at the history of sea level in the Mid-Atlantic, combining sediment records of prehistoric sea level with modern data, which includes readings from tide gauges and satellite instruments. The result is one of the most in-depth examinations of past, present, and future sea level rise of any region in the U.S.
To put recent rates of sea level rise into historical perspective, the study found there is at least a 95 percent probability that the rate of sea level rise in the Mid-Atlantic during the 20th century was faster than any century in the past 4,300 years, and a 67 percent probability that it was faster than any century in more than 6,600 years.
"The sea level rise that we're seeing now is very significant," including in a "prehistoric context," said study co-author Ben Horton of Rutgers University, in an interview.
Assuming continued groundwater extraction rates at coastal plain locations, those areas would see a greater amount of sea level rise, the study found. The study projected that those areas could be in for a rise of 9.8 inches by 2030, 1.5 feet by 2050, and about 3.5 feet, by 2100.
While the study shows that the main component of future sea level rise will be from global sea level rise, local land elevation changes should be factored into development decisions, since they will influence the rate and extent of relative sea level rise at the local level. The study noted that there are currently limited tools for policymakers to use to factor in sea level rise to the planning process.