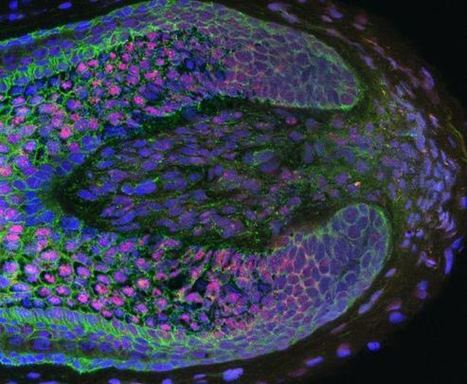 Scientists say they have for the first time successfully grown human hairs using dermal papilla cells taken from the inside of hair follicles.
The method could significantly expand the use of hair transplantation to women with hair loss as well as to men in early stages of baldness. Dermal papilla cells give rise to hair follicles, and the notion of cloning hair follicles using inductive dermal papilla cells has been around for 40 years or so. However, once the dermal papilla cells are put into conventional, two-dimensional tissue culture, they revert to basic skin cells and lose their ability to produce hair follicles. So we were faced with a Catch-22: how to expand a sufficiently large number of cells for hair regeneration while retaining their inductive properties," said co-author Prof Colin Jahoda from Durham University, UK.
The team found a clue to overcoming this barrier in their observations of rodent hair. Rodent papillae can be easily harvested, expanded, and successfully transplanted back into rodent skin, a method pioneered by Dr Jahoda several years ago. The main reason that rodent hair is readily transplantable, the researchers suspected, is that their dermal papillae tend to spontaneously aggregate, or form clumps, in tissue culture. The team reasoned that these aggregations must create their own extracellular environment, which allows the papillae to interact and release signals that ultimately reprogram the recipient skin to grow new follicles.
To test their hypothesis, the team harvested dermal papillae from 7 human donors and cloned the cells in tissue culture. No additional growth factors were added to the cultures. After a few days, the cultured papillae were transplanted between the dermis and epidermis of human skin that had been grafted onto the backs of mice. In five of the seven tests, the transplants resulted in new hair growth that lasted at least six weeks.
DNA analysis confirmed that the new hair follicles were human and genetically matched the donors.