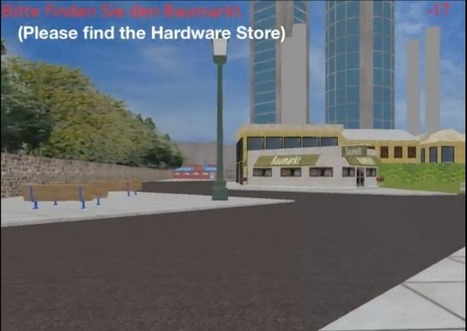 Neurons that encode spatial information form "geotags" for specific memories and these geotags are activated immediately before those memories are recalled, a team of neuroscientists from the University of Pennsylvania and Freiburg University has discovered. They used a video game in which people navigate through a virtual town delivering objects to specific locations.
"These findings provide the first direct neural evidence for the idea that the human memory system tags memories with information about where and when they were formed and that the act of recall involves the reinstatement of these tags," said Michael Kahana, professor of psychology in Penn's School of Arts and Sciences.
Kahana and his colleagues have long conducted research with epilepsy patients who have electrodes implanted in their brains as part of their treatment. The electrodes directly capture electrical activity from throughout the brain while the patients participate in experiments from their hospital beds.
As with earlier spatial memory experiments conducted by Kahana's group, this study involved playing a simple video game on a bedside computer. The game in this experiment involved making deliveries to stores in a virtual city. The participants were first given a period where they were allowed to freely explore the city and learn the stores' locations. When the game began, participants were only instructed where their next stop was, without being told what they were delivering.
After they reached their destination, the game would reveal the item that had been delivered, and then give the participant their next stop.
After 13 deliveries, the screen went blank and participants were asked to remember and name as many of the items they had delivered in the order they came to mind.
This allowed the researchers to correlate the neural activation associated with the formation of spatial memories (the locations of the stores) and the recall of episodic memories (the list of items that had been delivered).
"During navigation, neurons in the hippocampus and neighboring regions can often represent the patient's virtual location within the town, kind of like a brain GPS device," Kahana said. "These 'place cells' are perhaps the most striking example of a neuron that encodes an abstract cognitive representation."