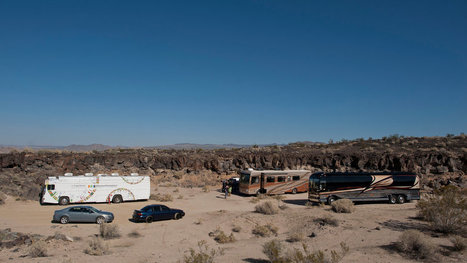 DNA sequencing and DNA synthesis are becoming faster and cheaper, and J. Craig Venter wants to use the technology to bring Martian life to Earth.
J. Craig Venter is looking for a new world to conquer — Mars. He wants to detect life on Mars and bring it to Earth using a device called a digital biological converter, or biological teleporter. Although the idea conjures up "Star Trek," the analogy is not exact. The transporter on that program actually moves Captain Kirk from one location to another. Dr. Venter's machine would merely create a copy of an organism from a distant location — more like a biological fax machine.
Still, Dr. Venter, known for his early sequencing of the human genome and for his bold proclamations, predicts the biological converter will be his next innovation and will be useful on Earth well before it could ever be deployed on the red planet.
The idea behind it, not original to him, is that the genetic code that governs life can be stored in a computer and transmitted just like any other information.
Dr. Venter's system would determine the sequence of the DNA units in an organism's genome and transmit that information electronically. At the distant location, the genome would be synthesized — or chemically recreated — inserted into what amounts to a blank cell, and "booted up," as Mr. Venter puts it. In other words, the inserted DNA would take command of the cell and recreate a copy of the original organism.
To test some ideas, he and a small team of scientists from his company and from NASA spent the weekend here in the Mojave Desert, the closest stand-in they could find for the dry surface of Mars.
The biological fax is not as far-fetched as it seems. DNA sequencing and DNA synthesis are rapidly becoming faster and cheaper. For now, however, synthesizing an organism's entire genome is still generally too difficult. So the system will first be used to remotely clone individual genes, or perhaps viruses. Single-celled organisms like bacteria might come later. More complex creatures, earthly or Martian, will probably never be possible.
Dr. Venter's company, Synthetic Genomics, and his namesake nonprofit research institute have already used the technology to help develop an experimental vaccine for the H7N9 bird flu with the drug maker Novartis.
Typically, when a new strain of flu virus appears, scientists must transport it to labs, which can spend weeks perfecting a strain that can be grown in eggs or animal cells to make vaccine.
But when H7N9 appeared in China in February, its genome was sequenced by scientists there and made publicly available. Within days, Dr. Venter's team had synthesized the two main genes and used them to make a vaccine strain, without having to wait for the virus to arrive from China.
Dr. Venter said Synthetic Genomics would start selling a machine next year that would automate the synthesis of genes by stringing small pieces of DNA together to make larger ones.
Eventually, he said, "we'll have a small box like a printer attached to your computer." A person with a bacterial infection might be sent the code to recreate a virus intended to kill that specific bacterium.
"We can send an antibiotic as an email," said Dr. Venter, who has outlined his ideas in a new book, "Life at the Speed of Light: From the Double Helix to the Dawn of Digital Life." Proteins might also be made, so that diabetics, for instance, could "download insulin from the Internet."