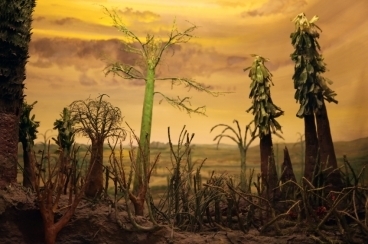 Rain as acidic as undiluted lemon juice may have played a part in killing off plants and organisms around the world during the most severe mass extinction in Earth's history.

About 252 million years ago, the end of the Permian period brought about a worldwide collapse known as the Great Dying, during which a vast majority of species went extinct.

The cause of such a massive extinction is a matter of scientific debate, centering on several potential causes, including an asteroid collision, similar to what likely killed off the dinosaurs 186 million years later; a gradual, global loss of oxygen in the oceans; and a cascade of environmental events triggered by massive volcanic eruptions in a region known today as the Siberian Traps.

Now scientists at MIT and elsewhere have simulated this last possibility, creating global climate models of scenarios in which repeated bursts of volcanism spew gases, including sulfur, into the atmosphere. From their simulations, they found that sulfur emissions were significant enough to create widespread acid rain throughout the Northern Hemisphere, with pH levels reaching 2 — as acidic as undiluted lemon juice. They say such acidity may have been sufficient to disfigure plants and stunt their growth, contributing to their ultimate extinction.
"Imagine you're a plant that's growing happily in the latest Permian," says Benjamin Black, a postdoc in MIT's Department of Earth, Atmospheric and Planetary Sciences. "It's been getting hotter and hotter, but perhaps your species has had time to adjust to that. But then quite suddenly, over the course of a few months, the rain begins to sizzle with sulfuric acid. It would be quite a shock if you were that plant."
The group simulated 27 scenarios, each approximating the release of gases from a plausible volcanic episode, including medium eruptions, large eruptions, and magma erupted through explosive pipes in the Earth's crust. The researchers included a wide range of gases in their simulations, based on estimates from chemical analyses and thermal modeling. They then tracked water in the atmosphere, and the interactions among various gases and aerosols, to calculate the pH of rain.
In addition to acid rain, the researchers modeled ozone depletion resulting from volcanic activity. While ozone depletion is more difficult to model than acid rain, their results suggest that a mix of gases released into the atmosphere may have destroyed 5 to 65 percent of the ozone layer, substantially increasing species' exposure to ultraviolet radiation. The greatest ozone depletion occurred near the poles.