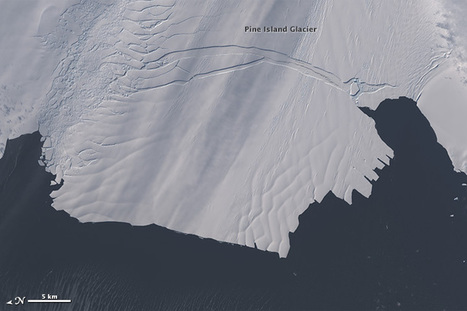 Landsat 8 captures a view of the ice separating from the ice shelf.
Between November 9–11, 2013, a large iceberg finally separated from the calving front of Antarctica's Pine Island Glacier. Scientists first detected a rift in the glacier in October 2011 during flights for NASA's Operation IceBridge. By July 2013, infrared and radar images indicated that the crack had cut completely across the ice shelf to the southwestern edge. New images now show that Iceberg B-31 is finally moving away from the coast, with open water between the iceberg and the edge of Pine Island Glacier.
The Operational Land Imager on the Landsat 8 satellite acquired these natural-color images of the iceberg in Pine Island Bay on November 13 (top) and October 28, 2013. Clouds and fog make the November 13 image a bit hazy, but the open-water gap between the iceberg and the ice shelf is still apparent.
Named B-31 by the U.S. National Ice Center, the new iceberg is estimated to be 35 kilometers by 20 kilometers (21 by 12 miles), roughly the size of Singapore. A team of scientists from Sheffield and Southampton universities will track the 700 square-kilometer chunk of ice and try to predict its path using satellite data.
"It is hard to predict with certainty where and when these things will drift," said NASA glaciologist Kelly Brunt."Icebergs move pretty slowly, and watching this iceberg will be a waiting game."
The shelf of Pine Island Glacier has been moving forward at roughly 4 kilometers per year, so the calving of this iceberg is not necessarily a surprise, noted Tom Wagner, NASA's cryosphere program manager. Such events happen about every five or six years, though Iceberg B-31 is about 50 percent larger than previous ones in this area.
Scientists have been studying Pine Island Glacier closely because there is evidence that warmer seawater below the shelf will cause the ice grounding line to retreat and the glacier to thin and speed up.