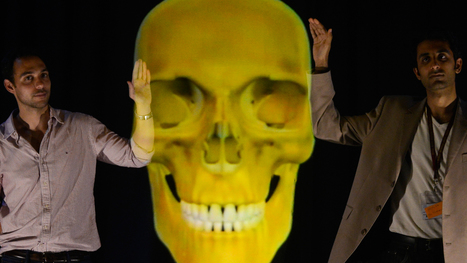 A system called zSpace uses a large screen, glasses and pointer — like a ballpoint pen — to interact with and manipulate 3-D images. The technology allows users to look completely around the object, examine it from all angles, and zoom in and out. It's also finding its way into universities and will be used to train med students and future surgeons. One day, the doctor operating on a wounded soldier or diagnosing a veteran may have had his humble beginnings exploring a virtual body.
"It's not like 3-D when you go to the movie; that's actually one dimension," said David Lenihan, dean of preclinical medicine and associate professor of neuroanatomy at Touro College in New York. The system will be part of a virtual laboratory set to open in fall 2014 at Touro. "You have to take the field of view that it gives you. With zSpace, you can look around."
Lenihan said that from an academic perspective, virtual humans modeled with 3-D holography techniques will provide some benefits over cadaver dissections. One of the problems with real materials is how things shift after death — the vascular system is not quite where it would normally be; the muscle tone isn't quite as firm. "Your skill set is actually much better in the virtual world, because the relationships are better to real life," he said.
Increases in computing power mean that processing complex, data-rich MRI scans or radiographs is now easier and faster. Computers can run the information-intensive models and present the image in robust, movable 3-D that you can seemingly pull out of the screen and spin around. While the virtual bodies dissected at Touro will be rendered objects designed with the University of Iowa, Lenihan said future applications on zSpace and similar technologies could pull data from real patients.
Another potential benefit of the holographic technology is the Magic School Bus-like ability to zoom down to the smallest scales and explore the body in ways you cannot experience in real life.